Anacortes, Washington
A picturesque northwest town

September 13-19, 2000
Although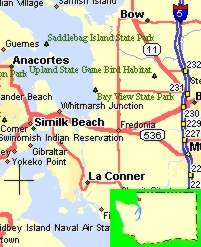 Laura and I try our best not to repeat areas that we visit, the State of Washington has got to be one of our favorites. I will have to admit that is in summer only. Snow just holds no appeal for either of us anymore. Anyway, we had gone through Washington in 1998 and decided that we would make a couple of stops there, this year on our way back down from the western part of Canada.
Anacortes is one of those small towns on the Pacific located in the northwestern part of Washington. We had gone through this area on our way to Port Townsend in 1998. This time we decided to spend a little time there and see what was there to see. In the town we wandered around and looked at the beautiful marina with all of its lovely boats. Many of them were sailboats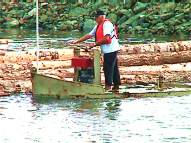 which are my favorites. Then we saw a restaurant called Randy's Pier 61 (excellent food and fantastic view). On our way to the restaurant we stopped to look at the lumber yard located next door. I have often seen the huge piles of logs stacked up in these lumber yards but had never seen workers unloading them from the water. Well, the operation was certainly interesting. One person in a small boat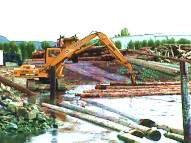 would push the logs that were chained together into the inlet in the lumber yard. Then another man operated a very strange looking boat which was powered by a small outboard motor and could be easy turned in any direction and pushed the logs closer to the shore. The next operator would pick up the logs with a large claw-like device and move them onto the shore where other operators driving fork-lift trucks would take them to there final location in the yard.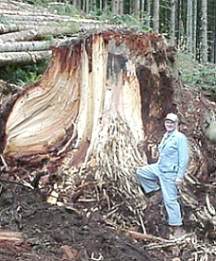 It was fascinating to watch them move these heavy cumbersome logs like they were matchsticks. I think what made it more interesting was the fact that we have a friend who builds roads for logging companies in Washington. He took us on a tour of one of the logging operations in Washington and showed us how the logs were cut down and trucked out. The picture on the right shows our friend, Lynn Davis, next to a stump he removed in order to get the road where it needed to go.
On Sunday we wandered down to the center of town for our weekly brunch and found an old time steam engine show, or gathering. These impromptu, come as you are and bring something interesting gatherings can be delightful to the engineering mind or anybody else with mechanical interests. Here,
to be sure, are the old one and two cylinder steam engines of years gone past. Late 1800s and early 1900s seem to have been the best for creation. What a time that must have been. There is always some unusual and intriguing machine which neither runs well or quits. Although billed as a steam engine show, early internal combustion machines are welcome if they are authentic and old. Of particular interest to me were the ones that fell into the group or category known as "hit or miss" engines. One cylinder which only fires ever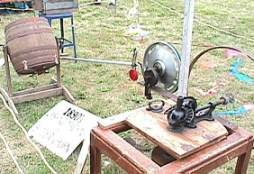 3, 4 or maybe 6 strokes of the piston, allowing a heavy fly wheel to carry the machine through the other revolutions. Two items of notable mention were: first, a gear box in which a half cog, like a crescent moon, was used with the driving gear running over the top of the cog then under it causing the drive shaft to reverse direction. It is hard to describe but fascinating to watch in action. It was used in a 1902 washing machine sold by Sears. The second one was a machine which simply defied understanding without an explanation. A relatively newcomer to the machine age, known simply as the "Banks Machine", the machine was invented by a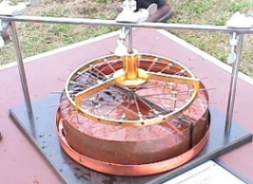 young physicist named Ridgeway Banks at Berkley in 1973. The working model was given to Edwin McMillan, then director of the Lawrence Radiation for saying "Go ahead try it", when Ridgeway came to him with the idea. The idea was to harness the property of a somewhat unknown metal called Niobium whose unusual property when made into a wire is that the wire will bend when hot and straighten out when cool. By making a wheel with many of these wires hanging underneath suspended on sliding rods, the rod would move when the wire was passed from warm water to cool water. By allowing the moving rod to exert its force against a gear, motion was created. It was the dandiest thing I had seen to watch it run. So the week had its interest and its intriguing moments.
* * * THE END * * *