Well, guys for all those times that the "little woman" dragged you shopping this is pay back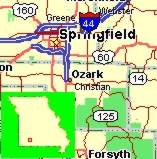 time. While traveling through Missouri in route to Branson we passed through a town called Springfield, Missouri. After seeing several signs for the Bass Pro Shop I knew that we just couldn't pass through without stopping there. To be truthful I really kind of thought "Oh yeah, I'll do this story for the guys (yawn)". But I want to tell you this had to be one of the most spectacular stores I have seen in a long time. Would you believe this store features

more than 300,000 square feet of outdoor adventures? You have to understand that this is the National Headquarters for Bass Pro. They sell everything you could ever want for hunting, fishing, or any outdoor activities. In addition they have a section that sells RV's and boats. As you walk in the main lobb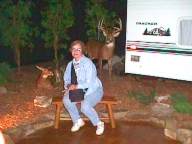 y you see animal trophies all over the walls. Then you see the beautiful fireplace that they have just inside the main door. As RV'ers of course we had to go and look at their stock of Tracker RV's. They had some strange looking fifth wheels that I had never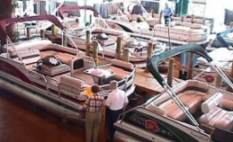 seen before. After that we perused the boat section. There were a couple of small snack bars and a beautiful restaurant called Hemingway's that was on the balcony level that overlooked the interior of the store. The food was fantastic! After having filled our tummies we went off looking at this and that. They had one area that featured classes on fishing reel repair. I don't think this guy at the left finished the class. Either that or he's contemplating a whole new way of fishing for the Raccoon family. We looked at guns in the gun department. And right next to the gun department they had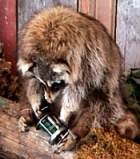 an indoor shooting range. They had clothing ranging from cold weather cammies to hot weather gear. There was one section that had footwear for everyone in the family. They even had a jewelry counter for us ladies. As we wandered around (by now somewhat footsore) we found several large aquariums in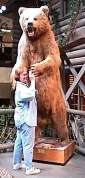 different parts of the building. I understand from their brochures that they have regularly scheduled feeding times for the fish. There was also a small trout pool. Next there was this lovely dancing bear and I just couldn't pass up a little spin around the dance floor. After we had finally tired of looking at the different sales departments we decided to take a look at their "little" Fish and Wildlife Museum. There is a charge for entry into the museum but it was will worth it. Folks I'm here to tell you this is no little museum. The folks that created it did a really fine job. The museum features Trophies and Records, African/Asian animals, Oceans, Dioramas and Collections of different adventure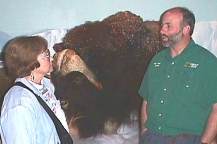 items; such as, fishing reels, fishing lures, etc. The Dioramas are some of the finest I've seen. They have no glass between you and the animals which makes it seem so much more real. We were able to meet Rick Collins who is the Wildlife Operations Manager. We also found out that they are currently in the process of building a new wing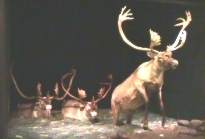 to house a huge new museum. In addition they are building a new Bass Pro store in Cincinnati Ohio (our old home town).
Finally, when our feet couldn't take anymore we decided to head out to our truck having spent at least 5 hours inside the store. For once, I never heard a word of "shopping complaint" from my hubby. I understand that Bass Pro has several stores around the U.S.
Good Luck! Have Fun! and Stay Safe!