Bisbee
&
The Shady Dell Trailer Park
Highway 80
Bisbee, AZ
January 30, 2001
While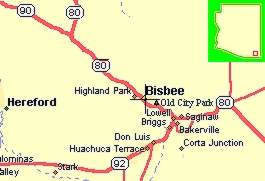 we were staying in Sierra Vista we decided to run up to Bisbee and take a look around. Bisbee is an interesting little mining town situated in the Mule Mountains. Bisbee was founded in 1880, and was home to the famous and infamous, and was considered to be the hottest spot between El Paso and San Francisco. Today, Bisbee is quaint and captivating with its historic buildings, museums, art galleries, antique shops, hidden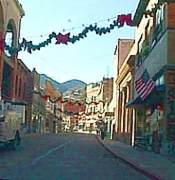 walkways, mild climate, and tales of its rich past. Its close proximity to the Chiricahua National Forest and Ramsey Canyon Nature Conservancy provides wonderful opportunities for rock hunting, hiking, bird watching and exploring the wonders of the desert.
What is fascinating to see, is that the buildings of the town and surrounding houses are built into the hills on either side of Highway 80. They have walking tours of the historic section of the town, but we didn't get there in time to take the tour. So, off we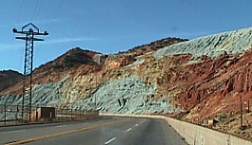 went in search of our own adventure.
We took a few pictures of the town and then of the hills surrounding the town. Just outside of town is a large pit mine. Some friends who had been through the area last year told us that we couldn't miss seeing the Shady Dell Trailer Park. So we continued east on Highway 80 looking for this mysterious park. As we were passing through an intersection I told Bob "there it is!"
The Shady Dell began its history in 1927, providing trailer and camping spaces to travelers of Hwy. 80, which stretched from San Diego, California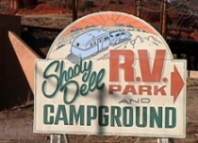 to Savannah, Georgia. Today, part of the park is equipped with RV hookups, while the other part is a living museum to the bygone days of trailering.
A sleek lineup of vintage aluminum travel trailers is available for overnight or weekly rentals. The rates run from $30 to $70 a night. This collection includes a 1949 Airstream, 1950 Spartanette, 1950 Spartan Manor, 1954 Crown, and a 1951 Royal Mansion among others.

Each trailer is equipped with a propane stove, refrigerator and an electric percolator for that early morning cup of coffee. All dishes and linens are furnished. Interiors are rich blonde wood or highly polished aluminum, and every effort has been made to keep the decor original. Cassette tapes of big band, early rhythm and blues and favorite old radio programs are provided for play in reproduction vintage radios.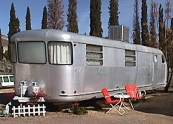 Some trailers have original black-and-white televisions and phonographs with a selection of vintage records. Magazines and books from the period are provided. Outside each trailer is a grassy yard with lounge chairs. Barbecue grills are available. The park restrooms with hot showers are spacious and clean, and decorated with memorabilia from the heyday of the travel trailer.
Also located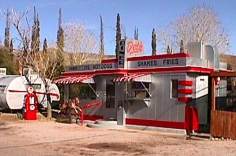 on the premises is Dot's Diner, a 1957 Valentine 10 stool model that was featured in Gourmet Magazine. It has been lovingly restored to its original art deco splendor. Shady Dell guests and townsfolk alike can enjoy a home-cooked breakfast everyday of the week. In addition to breakfast they made some of the best burgers I've ever had.
If you're ever near Bisbee be sure and stop by the Shady Dell Trailer Park at Highway 80 and Douglas Rd. and take a nostalgic trip into the past of trailering. Or you can call them at 520-432-3567 for more information.

Good Luck! Have Fun! and Stay Safe!
Laura