Branson
An Entertaining City
Branson, MO
March 24-31, 2000
For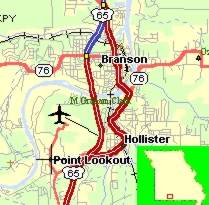 the last 10-15 years we had heard friends talk about Branson Missouri until it became like one of the World's Great Mysteries to be solved. Well, we did it! We arrived in Branson on a Friday night knowing a little of what to expect but not everything. Folks, if you're into country music and TOURISM (big time) then Branson is the place for you. It's hard to really describe what Branson is except to say it's like Virginia Beach, Myrtle Beach, and Pigeon Forge all put together. It's one of the few places I have been to that has routes marked "Congestion Relief" roads. We were fortunate, in that we were actually there before the official tourist season started. (It starts the first part of April) That's the good part, the bad part was that some of the shows weren't open yet. However, as we pulled into town on Friday we dropped the rig and decided to look around. As we did I spotted a billboard that said the Oak Ridge Boys were appearing that night at the Grand Palace at 8PM (it was then 6PM). Well, we figured that we didn't have a chance to get tickets, but lo and behold we went to the theater and were able to get good seats for that night's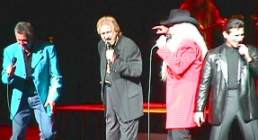 performance. ($75 for 2). Being big Oak Ridge fans we really enjoyed the show. It ran just a little less than 2 hours, which is about standard for Branson shows. The singing brought back a lot of very warm feelings from the past. Plus, they had some new songs that they did. If you're interested in finding out who's going to appear at the Grand Palace check out their website at: http://www.thegrandpalace.com.
One thing we found out for sure, don't even consider going on a diet when you go there. Every other restaurant is a buffet. This one is bigger, that one is better, this has seafood, that has steak, etc. Even an old standby, The Golden Corral, advertised themselves as the world's largest Golden Corral and featured a dinner show. Everybody has a gimmick.
In looking through a book on the history of Branson we learned that the shows started coming into the area in the early 60's. If you look at the list of shows you see that many of the theaters have changed hands a number of times over the years. I didn't look into the reasons behind all of these changes but in the case of Wayne Newton I understand that he went back to Las Vegas having been given an offer he couldn't refuse. (From what I heard it was one of the highest contracts given a performer, to date). We had been hoping to see M-M-Mel Tillis but his theater didn't open 'til the second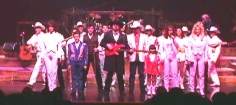 week in April.
It was hard to make a decision as to which shows to attend, there were so many. We did ask several of the people that we met and Country Tonight was high on a lot of lists. Well, Country Tonight certainly lived up to what we heard. It featured a lot of up and coming young talent that had more bounce to the ounce than the average golf ball. One young male singer was twelve years old. Fantastic voice. Then they had a young lady that will surely be the next "Leann Rimes". This little gal was eight years old and had a presentation and stage presence that was amazing. It was a very enjoyable show.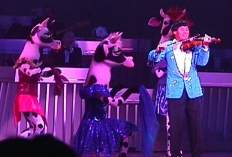 Well a couple of nights and several restaurants later, we decided that we had to see the Shoji Tabuchi Show. Everyone we had ever talked to that went to Branson said "You have to see his show". The show was truly wonderful. A variety of beautiful music, lots of singing, dancing, costume changes, and special effects. Absolutely worth the money. If you see nothing else be sure and get to this one. It has something for everyone. And ABOVE ALL when you go in to buy the tickets visit the restrooms. Yep, I said the restrooms. Both the ladies' and the gentlemen's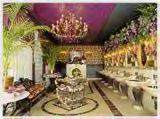 restrooms were absolutely decadent. The ladies' room had flower arrangements all around (silk), flowered wallpaper, crystal chandeliers, wooden doors on the toilet stalls, and if you believe this, a fresh orchid at each sink. Plus, there was a "lotion-lady". After you washed your hands there was a lady there dispensing hand lotion. Wow! talk about feeling pampered. After we checked out the respective restrooms Bob and I met to compare notes. As you can see the men's restroom was very interesting. It had a regulation size pool table along with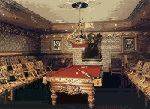 upholstered lounge chairs. However, one of the things that Bob told me fascinated me. They had the urinals filled with crushed ice. Now, if anybody out there has any ideas about this, please let me know (keep it clean now). We thought of the obvious: avoiding splash out, and OF COURSE the old "I can write my name and make designs syndrome". After all, boys will be boys.
After we had done the "tourist-thing" we decided to find out what else there was to do in and around Branson. One tourist center that we went to had a sheet called "the other side of Branson". It listed a number of things you could do and see that had more to do with nature or just local sites. If you are interested in those just click here. The Other Side of Branson.
One of the most fascinating places we went to outside of "The Strip" which is where most of the theaters are located, was a small college just south of Branson in Point Lookout, MO. Bob did a story on it. It is called the College of the Ozarks. The people that worked there and the kids that attended it, that we met, were some of the most upbeat individuals I have had the pleasure to meet in a long time. I wish every college in America had the attitude that this one has.
Well, after a week (not nearly long enough to see everything) we pulled out of Branson, a little heavier, a little more entertained, and in search of our new story in Hannibal Missouri which is Mark Twain's boyhood home.
Good Luck! Have Fun! and Stay Safe!

Laura