Camping on the Reservation
On the Colville Reservation
Northeast Washington State
August 13th, 2006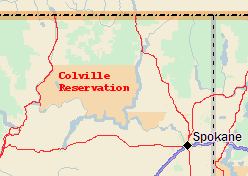 During our travels, we mostly look for interesting places to visit and write about. Once in a while we run into a person, or character who is so interesting that they are a story unto themselves. This was the case, while staying in Tucson, AZ for a winter. We met Bill and Phyl Cramblit. Bill is an Indian of the San Poil tribe and lives on the Colville Reservation in Northern Washington during the summer and then winters in the south. We became close friends during that winter and when finally parting company, Bill asked us to stop by the Reservation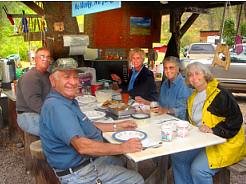 during the summer and stay with him and Phyl for a while. Sometime later during the summer we found ourselves in Washington so we gave him a call and were told to come on over. After getting a detailed set of instructions we started off. This part of Washington is a land of high hills separated by low mountains. The road twisted and turned in such a sharp path that speed had to be keep down to around 25 mph. On many an occasion I was able to see our Jeep through the mirrors as it zigzagged along behind us. Once we got to the highest point on the mountain, it was time to come down. It is always more exciting to bring a big rig down a mountain then it ever is going up. In due time we made it to the valley below and found the dirt road that led to Bill's campsite.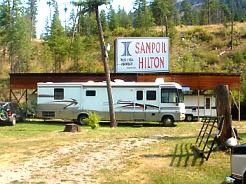 When we arrived we were greeted by Bill and Phyl as well as Daryl and Belva (a couple we had also met in AZ who were long-time friends of the Cramblits.) The campsite itself is just an open area along the banks of a small brook. There were a couple of lean-tos but for the most part we stayed under the stars. After getting hooked up, there was both water and electric available, we were introduced to the center of attraction. The campfire, a larger then normal rock circle complete with a swinging cooking rack which Bill had fabricated in order to cook the deer which made up the staple for those living in the camp. The fire was always going, providing all the heat and light that was needed. The fuel is a massive wood pile which Bill had stocked from dozen of trees cut down on his property or dragged in from other parts of the reservation when permission is granted. Reservation land is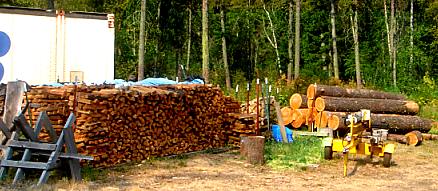 distributed in several different ways. It can be granted by the Federation and this allows you to live on it but you must follow all the rules and requirements of the Federation while there. If you have money, you can buy the land from the Reservation, providing you are a member of one of the 12 Federated tribes. The land is then yours to do with what you wish, within reason and some universal tribal rules. One Indian Law is never waved, always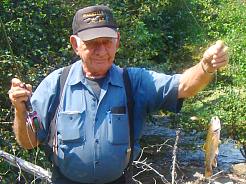 in power: the land and its resources are here for the Indian and the Indian only. White men cannot carry a gun or pick up a fishing pole on any land, deeded or granted, guest or not. It is aggressively enforced. So each day that we would go out hunting the elusive deer, only Bill carried a gun. His white wife is not allowed to take part. And when the deer was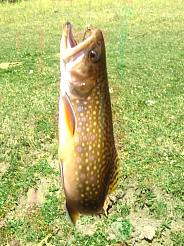 too elusive, Bill resorted to the other basic food stock. We would stop along one of the many streams that we crossed for a little fishing. The outcome was never in doubt. Bill had been fishing these streams since he was a boy. and knew where and when the fish would be biting. A single concession to the non-Indians, we were allowed to catch the small winged grasshoppers that lived in the fields surround the stream. These grasshoppers are a favorite of the local brook trout, and were added to the hook. Then with nimble hand and steady eye Bill would play the fishing line like a old fly fisherman placing the bait within inches of his target, and then shortly, with a quick jerk, send a unsuspecting fish flopping out onto the bank. They are a small species but quite tasty when breaded and fried. As Bill demonstrated, the small ones are eaten bones and all, and surprisingly the bones were soft and broke up with no problem. All in all it was a great time with many stories told and much friendship shared.
*** THE END ***