Thunder Bay Agate Mine
1 km North of Trans-Canada Hwy on Hwy 527
East of Thunder Bay
Thunder Bay, Ontario
Canada
June 25, 2000

We had seen handouts for several Amethyst mines in the area but only one for an Agate Mine.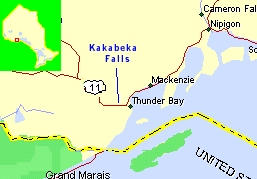 We came to find out that the Agate mine in Thunder Bay is only one of three places in the world that Agate is found in vein formation. The other two are in Mexico and Brazil. As we got to the Agate Mine we went into the gift shop and was told by Jamie (an employee/tour guide) that we could see the mining operations any time we wanted. Since it was a nice day and a short distance we decided to walk. I had gotten into rock collecting or "rock hounding" as it is called when we visited the western part of the U.S. last year. I got into it "big time" and purchased a rock tumbler,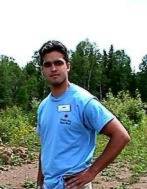 tumbling material, etc. Unfortunately that was before we became full time and we found as we were liquidating our assets to go full-time that a good many things had to go and my rocks, and tumbler are now sitting in storage awaiting my return. However, I did gain a considerable knowledge about rocks and found that I really loved getting my hands dirty going through piles of rocks looking for just "that special one". While we were walking out to the mining operations Jamie explained that the Agate vein was found accidentally during a logging operation in 1987. A bulldozer was making a road and struck the corner of a shallow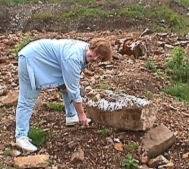 agate outcrop. The agate was staked for the mineral rights but not developed. In 1995 when the mineral rights were open the present owners re-staked the ground and began to develop the agate. In Novermber 1996, trenching with a backhoe outlined approximately 500 tons of agate. The mine opened to the public on July 1, 1997. The present owners, Linda and Dennis Seargeant, have the mineral rights and run a strip mining operation in partnership with the property owner, Neil Maunula. We also were able to look at the largest agate in the world. It is at least 3-4 feet thick and the length is not known.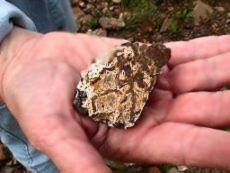 When we got out to the rocks piled up on the ground, I went to work in my usual thorough fashion, looking here and there, moving this rock and that. If you have never rock hunted the problem is, you have to picture the rock as it might be not as it is. There have been many a prospector passed up a rich vein of ore, simply because he couldn't see the potential in it. I found one large piece (about the size of an baseball) that had some lovely markings in it. So we decided that would look good, cut down and polished.