A Buddhist Temple
Art and Culture in
Richmond, B.C.
September 18, 2000
Considering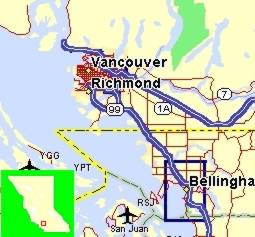 that a good percentage of the population of Vancouver is Chinese, I was not surprised to find many Buddhist Temples within driving distance. One of the most celebrated is in Richmond, BC., just south of Vancouver. It even had a brochure proclaiming that it presented the most exquisite example of Chinese palatial architecture in North America. Religion, like philosophy carries a great insight into the minds of those who profess its following, and as such, I have attempted to stay somewhat knowledgeable of the great Religions of the World. So with that in mind and expecting to see some really great Chinese art, we traveled south to the Buddhist Temple. I was not disappointed. Set behind modest walls, this complex, at first impression, was green, lush and immaculate.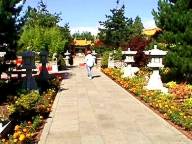 As we walked from the parking lot, down the long sidewalk, lined with marigold flowers and traditional Tang Dynasty lanterns, that led to the pool and the front of the temple grounds, I noted that not a blade of grass was out of place, not a stream of water from the many fountains was out of alignment. Although there was a constant background of melodious chanting, the atmosphere was that of a library. We found ourselves whispering when we spoke at all, often electing to nod or point in lieu of the spoken word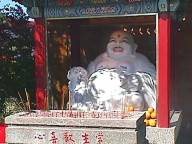 which threatened to break the spell that hung so precariously in the silence. The end of the sidewalk led to one of the more recognized statues of Buddha. Known as the Happy Buddha, or the Laughing Buddha of Happiness. It was with effort that I pushed myself to take pictures, an act no other visitor (mostly Chinese) elected to do, though signs in several places encouraged it. We began our tour of the outer garden which meandered around the Siddhatha Gotama Pool. On our way we passed the Fountain of Wisdom. It is written that everyone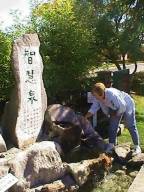 possesses the original nature of enlightenment. However one's senses are strongly bound and confused by desires and ignorance, thus polluting the original wisdom. Wisdom fountain water helps to cleanse one's mind and reminds us to attain enlightenment. Laura, always looking for the knowledge of enlightenment tasted the water. Clear and cool, it was refreshing. Just beyond the fountain of wisdom, stretching out across the entire front of the temple grounds was the Siddhatha Gotama Pool. The serenity of the clear reflection pool was accented with various statues and an ornamental bridge which crossed through the middle of the water. Gold fish played in the shallow
waters. There were flowers and plants of every description, each with its proper name attached somewhere nearby. The crowds in this area were light. The panorama presented quite a tranquil atmosphere. As it was on the walkway, the grounds are kept in immaculate condition yet there was no evidence of anybody working in or around this area.