Roosevelt Campobello International Park
Campobello Island
New Brunswick, Canada
September 17, 1999
If

someone had asked me where Franklin Delano Roosevelt's summer home (Campobello) was, I certainly wouldn't have thought it was in Canada. But, when we visited Lubec, Maine, we saw signs showing Campobello and leading to a bridge that went out over the water to Campobello Island. As we crossed the bridge (at the Canadian side) we had to stop at the customs booth and answer a few questions for the Canadian Customs Officer. Once we got across we went to the Visitors Center where they have an extensive museum containing historic photographs, and artifacts for which there are text and audio interpretations. We then went into the forty-seat threatre and watched the video "Beloved Island". It was a portrait of the island and its impact on Franklin Roosevelt. The film was very interesting. It dealt mostly with the story about FDR's childhood and then his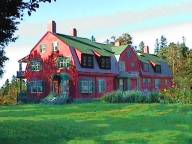 transition into adulthood. It was fascinating to watch the man I had often seen in newsreels on crutches or in a wheelchair (due to polio) lead a very active personal and social life. FDR loved all kinds of watersports and passed that love along to his children. His life on Campobello started out when his parents bought a summer house on the island. Many of his childhood summers were spent on the island, learning to sail and many other water activities. When FDR grew to adulthood and married he and his wife, Eleanor, started coming to the island and staying at a cottage next to his parents (now the Roosevelt Cottage). When Franklin's mother passed away she left the cottage to Franklin and Eleanor. FDR as an adult recalled the
freedom and joy of his childhood and drew strength from the island. He always called the island "my beloved island". In visiting the Roosevelt Cottage I was surprised at how modest a home it was. When I think of "summer cottages" for the rich and famous of the early 1900's I think of huge mansions with all the lavish appointments available. Well, this was hardly the case for the Roosevelt "Summer Cottage." True it is a lovely house but considering that the Roosevelts (Eleanor and Franklin) had five children, it was not overly large. What was interesting is that as you went from room to room there was a guide who gave a brief description of the use of the room, who lived there, and was able to answer any questions you might have. As we wandered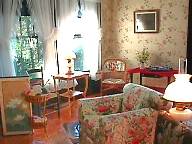 through the house I tried to imagine a great man like Franklin Roosevelt and his family living there. I can only imagine that it was probably a welcome change from all the pomp and circumstance that came with his position in politics. Here he had the freedeom to just be a man, a husband and father. Unfortunately, this happiness was not to last. When he was on the island in 1921 he was stricken with polio at the age of 39. He was taken from the island on a stretcher and was not to return for nearly twelve years. Eleanor however, did return many times with the children during the summer months. FDR was not to return to Campobello until he became President of the United States and then he only returned for three visits (1933, 1936 and 1939).
The Roosevelt Campobello International Park was established on January 22, 1964 by an international agreement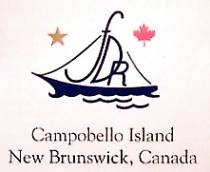 signed by President Lyndon B. Johnson (of the United States) and Prime Minister Lester B. Pearson (of Canada). The agreement established the Park as a unique memorial to the close and neighbourly relations between the peoples of Canada and the United States of America. Both governments recognized the important role FDR had played in their mutual histories and the many intimate associations of President Roosevelt with his summer home on Campobello. In 1980, the Roosevelt Campobello International Park Commission adopted a logo based on President Roosevelt's original desiign for his matchbook covers. The letters "FDR" form a sailboat, respresentative of his favourite pastime. The Commission added a star over the bow and a maple leaf over the stern. These additions signify participation by Canada and the United States in the joint operation of the Park.
The Park opens the Saturday following Victoria Day (the Sat prior to US Memorial Day) and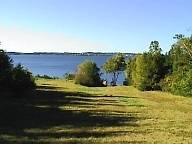 remains open through Canadian Thanksgiving (US Columbus Day). Visiting hours are from 10:00 a.m. to 6:00 p.m. There is no admission charge. If you would like anymore information check their website at: http://www.fdr.net . If you visit the island be sure and take time to drive around the island and see some of the beautiful scenery. They have Salmon farms in some of the bays and several nice restaurants. There are also very nice hiking or biking trails. While they don't allow overnight camping in the Park itself there is a park in the area called Herring Cove Provincial Park that has 100 campsites, forty with electrical hookups. There is also a nine-hole golf course in the area.
Good Luck! Have Fun! and Stay Safe!
Laura
*** THE END ***