Heritage Park
Historical Village
1900 Heritage Drive S.W.
Calgary, Alberta, Canada
August 5, 2000
The first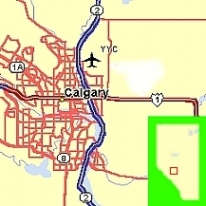 of our adventures came with a visit to the largest living museum in Canada. Simply called Heritage Park, this 66 acre facility, located on the shores of a lake, is packed with relocated and re-created building that represent Alberta in three distinct time periods: the 1860s fur trading period, 1880s pre-railroad era, and a western town around 1910. We had to arrive at opening time of 10:00 in order to take part in the only truly Calgary custom afforded at the time. The Calgary Stampede Rodeo Days, has since its beginning offered free hotcakes and sausage to all comers. For the week of the stampede, every little shop and corner store has a small griddle and offers pancakes and sausage to anybody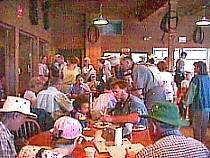 who passes by. There is never a charge. In keeping with this practice, the Heritage Park offers the traditional feed to all park goers in a large converted barn. Nothing like the mention of "free food" to get everyone's attention. Simple but good, it got us off and running for the next several hours.
In a place as large as this one of the most difficult tasks is what to see first. As you enter the park you are given a large map of the park as well as a schedule of the events to take place. Two of the things that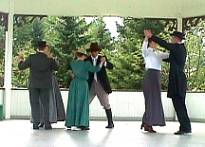 were high on our list were the train ride (taken out of the 1910 western town), and the paddle boat ride, which allows you to see the park from the surrounding lake. We usually ride anything which shows us an overall picture of the area first, but this time opted for seeing the 1910 section (the western town) first, since we had already breakfasted there.
The 1910 western town had its own steam locomotive with old wicker seats in the passenger car. Jerky and smoky, it pulled the cars around at walk speed through the entire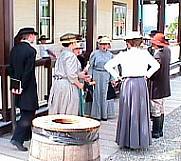 park. It was not all static in display as events unfolded at scheduled times. A dance lesson at the gazebo resulted in insults and injury as the young ladies attempted to teach their men how to dance. Then there was the town meeting where our lively troop of performers engaged in a spirited debate over the need to make running water available to all households in the town, and if women should be made to raise their skirts off the ground. Most of the displays and activities were very realistic and presented a feeling of the time period for which they were part of.