The Citadel
Of Halifax
Halifax, Nova Scotia, Canada
September 8th, 2001
In our travels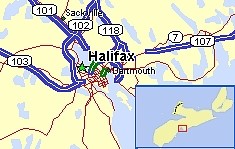 throughout the Maritime Provinces of Canada there was one place that held a mystique of the great novels. Halifax, on the South coast of Nova Scotia has always held a lure for me. Old mariner tales of sailing the tall ships from this port of intrigue to the other capitals of the world set my expectations high for this town. Now I found myself wandering the streets and waterfront looking for the history of this most wonderful city. My search started with the most obvious landmark. On the highest hill around, in the middle of the city more or less, stands the impenetrable Citadel. In looking at the history of this structure, I found that the key to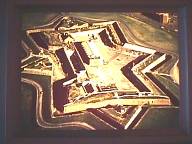 Halifax was of course its harbor. Halifax Harbor (Kjipukruk by its Indian name) was a wonderful place for ships. It was 35 km long and up to 3.2 km wide, reaching some 76 meters in depth. The French, being the first Europeans to visit the harbor proclaimed it the finest harbor nature could form, being deep, wide sheltered and ice free through the winter. In 1711 the French drew up plans for the development of a fortified town at the mouth of Chibouguetou, as it was called at that time. Nothing happened to those plans but 38 years later 2500 British settlers arrived and built and fortified a new settlement called Halifax.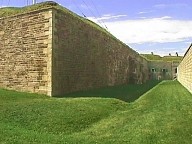 They were quick to realize that the natural landscape afforded a strong defense against attack from the sea. In the 1700s, Atlantic Canada was critical to victory in the struggle between France and Britain for superiority in North America. The colony of Nova Scotia was affected by these hostilities. A 1713 treaty between the two antagonists placed mainland Nova Scotia under the British flag while Cape Breton, was awarded to the French. The two countries squared off and two huge forts were constructed. The French constructed Frontiers Louisbourg on the Southeast coast of Cape Breton and the English built the citadel at Halifax. Without maligning either country, within 50 years, Louisbourg fell to British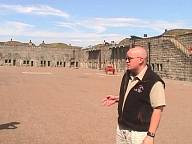 attacks twice, while the Citadel was never attacked. In the case of the Citadel, this may be its most endearing property. This massive fortification collectively with its many outer defense positions has never received a shot in anger. Over and over again, either as a British fort or a Canadian defense system, the structure stood year after year, first falling into decay only to be resurrected into yet a greater and less vulnerable fortress than ever before. With the French departure from the New World, there was no need for a fort, then the fishing rights became an issue and the Fort was reestablished only to fall to decay when those rights went unchallenged.