Drumheller
Canada's Badlands
Drumheller, AB, Canada
August 10-15, 2000
The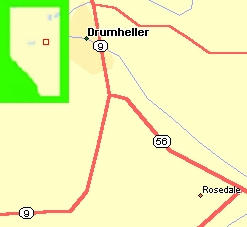 City of Drumheller and the area surrounding it, in Alberta, was probably one of the most fascinating parts of Canada we visited. As I recall, we were driving along on Hwy. 9 enjoying the beautiful scenery provided by the flat farmland surrounding us. As I looked forward, it appeared as though the road in front of us just went into the earth and disappeared. As we approached that section we saw that the road did indeed go downward into a canyon. As we went deeper and deeper into that canyon the landscape around us starting changing, until we were surrounded by vistas that looked very much like Arizona's "badlands". What earlier had been lovely fields of Canola, suddenly broke away to reveal an astonishing, twisting, turning, canyon, walled with multicolored layers of sandstone, mudstone and coal alternating with shale sequences. As we drove into Drumheller, itself, we noticed that there were dinosaur statues everywhere, then we passed the visitors' center and saw a huge disassembled dinosaur in the front yard. After we settled into our campground at the edge of the Red Deer River we went looking around the town to see what the cause for all these dinosaur things was. At the visitors' center (after carefully skirting around the huge fellow in parts) we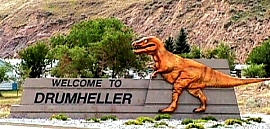 found out that in 1884 Joseph Tyrrell was doing a geological survey of Canada and came across the fossil remains of a dinosaur which would later come to be called the Albertosaurus. (See Bob's story on the Royal Tyrrell Museum ) From this single discovery people came from all over to look for fossil remains, which they found in abundance. The Royal Tyrrell Museum was founded in 1976 and is the only institute in Canada devoted entirely to the study of Paleontology. The town of Drumheller decided to capitalize on the fact that so many fossils were found here by erecting small dinosaur statues all over town, in addition to the colossal dinosaur at the visitor's center waiting to be assembled. Unfortunately the assembly would not take place until after we left, but we found out that it would be the world's largest dinosaur. It would be 80 ft tall and 120 ft. in length. It would allow visitors to walk up through the body of the dinosaur and have their picture taken in the open mouth of the dinosaur. Cute huh? I can just imagine the kids wanting to hang out of the mouth, over the many teeth, as though they were victims of "the beast".

After we had walked around town for awhile, we got in our truck and went out to what is called Horseshoe Canyon. While it is stark (most of it being sandstone rock formations) there is a majesty about it that is hard to describe. Bob decided
that we needed to walk the trail that went out through the rocks. At one time they offered ATV rides, but they were not in service while we were there. So, armed only with our trusty walking sticks, off we went with "guide" Bob in the lead. Unfortunately, Bob is better at balance and rock-walking than I am. But to make up for that I have a competitive spirit that insists that if-he-can-do-it-I-can-do-it. More than once this has gotten me into some hair-raising adventures. This proved to be one of those times. The path Bob had chosen kept getting narrower and narrower, and higher and higher. He crossed a crack in the rocks. I crossed the crack in the rocks. He jumped over a little wider crack in the rocks. I jumped over the little wider crack in the rocks. He leaped over a much larger crack in the rocks. I...... "WAIT A MINUTE HERE -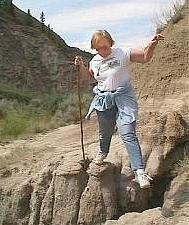 HOW DO I GET OUT OF THIS CHICKEN OUTFIT?" The problem had now become, can I go all the way back by myself or do I do this insane thing? I thought to myself "if I don't do this I won't hear the end of it". So keeping this wonderful philosophy in mind I stepped back and jumped. Well, I made it, even if I ended up landing on my knees at the other side. My ever-faithful guide was a great help during this time of peril, HE TOOK PICTURES. Guess somebody had to record this momentous occasion, eh? The trip back was much easier since much of it was downhill and no more jumping large cracks. In all honesty, I will have to say that I really enjoyed being out in canyon. It made me feel like we were out in the badlands out of sight of civilization. And, of course, I had the ever present "bragging rights" that I had done this.
Our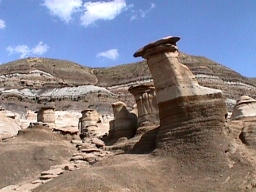 next sojourn into the badlands area took us in search of something called Hoodoos. They are rather strange looking rock formations which occur when a rather large, solid rock, is surrounded by sandstone. Over thousands of years the sandstone erodes leaving the solid rock standing in rather odd formations. At this time you were still able to walk in the area where the hoodoos were, but they were talking about blocking this area off from the public because of erosion that was occurring. They were fascinating to look at.
Besides the many adventures that we had, there are many other activities in the area. They have a Dinosaur Country Science Camp for children. There is also a swinging bridge that leads to an abandoned mine and a small ferry (free) across the Red Deer River, that is cable driven.
After our week long visit, we turned our truck and trailer towards Edmonton and civilization. As we pulled out of the valley onto the, once again, level farming area it was with a feeling of having visited "Jurassic Park". If you're ever in the area, be sure and visit Drumheller and the beautiful Canadian Badlands.

Good Luck! Have Fun! and Stay Safe!
Laura