Founders Hall
8 Prince Street
Charlottetown, PEI, Canada
August 17, 2001
In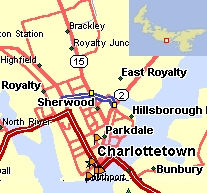 Charlottetown they have just opened the Founders Hall Museum which tells the tale of the confederation of the Canadian Provinces into one country through some very modern and visually delightful multimedia sensations. On the day we visited the museum they were having a musical presentation on the outside. Bagpipes being one of our favorite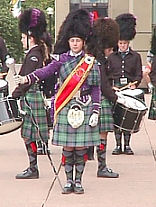 instruments Bob and I stopped to listen before going inside.
Some of the ways they offer the presentation was through the Time Travel Tunnel which began our journey into the pages of history. Then there was the Queen Victoria Theatre located in the hull of the S.S. Victoria Ship. This theatre offered a multi-screen presentation on the Confederation.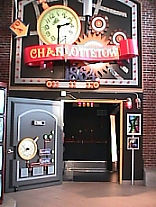 After this was the Hall of the Delegates which is a stately hall dedicated to the founding fathers with a holovisual display and life-size statues of the founding fathers.
Next came the Stormy Weather Threatre which presented modern TV shows in 1864 style. This one was definitely a bit different and refreshing.
The Road to the Provinces had highly realistic displays and sets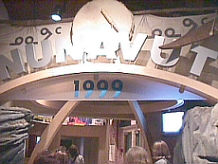 depicting each provinces' critical reasoning for joining Canada. You get to walk through a railway tunnel in British Columbia and a goldmine shaft in theYukon.
We were able to get a picture of some young Canadians looking over a display dedicated to the newest territory of Canada,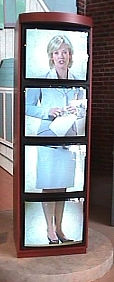 Nunavut. Again an excellent presentation of the growth of this northern territory.
Finally the Canada Today Theatre was an exciting finale presentation that presented ordinary citizens of Canada from Coast to Coast. I particularly liked this one. I think they must have picked every odd named town from one side of Canada to the other to find people for this film. What really caught my interest though was the obvious pride that each of these Canadians took in their country.
I can't recommend this museum highly enough, although I'm not Canadian, it amazed me how interestingly they were able to present what could have been a dull, boring piece of history. I really enjoyed this museum and would suggest you set aside most of a day to see it properly. Their website address is: http://www.foundershall.ca.

Good Luck! Have Fun! and Stay Safe!
Laura