Gros Morne National Park
Unesco World Heritage Site
Rocky Harbour, NF, Canada
September 3, 2001
New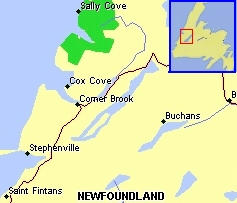 foundland had to be some of the most beautiful scenery I have seen on an island. After staying in any number of crowded urban areas, going to someplace like Newfoundland is like opening a door and letting your spirit breathe. Even for those of us who were born and bred in a city setting, being among nothing but trees and animals and beautiful lakes is a real experience. As I had mentioned earlier we left our 5th wheel in storage in Nova Scotia and were staying in bed and breakfasts in Newfoundland. Fortunately, these were in abundance on the island. Seems like everywhere we went we saw B&B's even more so than hotels or motels. We were told by many that we could not miss seeing Gros Morne National Park when we got near the north-west corner of Newfoundland. After arriving there we could certainly see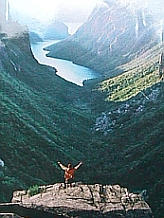 why. One of the trails that we opted to take was the Western Brook Pond Trail. This area has been made famous by a picture of a man standing on the crest of a very large hill at the end of the boat ride through the Western Brook Pond. It is possible (not for little ole me) to take the boat to the end of the pond and hike out on your own. This trip back takes about 3 days of backpacking. Definitely not for the faint of heart (or should that be feet?). As we were walking back to our car after going down to the visitors center, we encountered a couple who were just coming back from such a trip. The lady mentioned that her feet had swollen up so badly that she couldn't take her shoes off the last night they slept out because she was afraid she wouldn't be able to get them back on. We chatted with them as we walked along the path together. They were a delightful couple from another part of Canada who had flown in just to "bush-whack" in Gros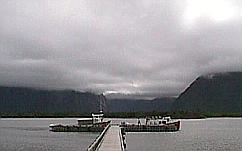 Morne. Bushwhacking means that they would not necessarily follow a path cut into the wilderness by the Park, but would cut their own path. They were armed with the necessary navigation equipment, but unfortunately the topo-maps available for that area of Canada are very limited compared with what you can obtain in the U.S. As a result it is possible to get lost very easily. When Bob and I decided that we would travel full-time to see North America my idea of roughing it was a less than 4 star hotel. His idea was a nice tent and sleeping bag. RESULT: our 5th wheel. We call it roughing it smoothly. After checking out some of the scenery in Gros Morne we decided to find a place to stay for the night and ended up in a small town called "Cow Head". Yup, that's what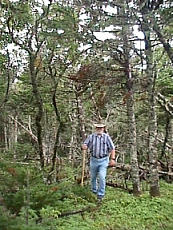 I said. Cow Head. Well, it seems that Cow Head had a motel in the town that ran a B&B as well. We checked into their B&B for the night and found that we had one other couple staying there with us. As we were checking in we saw a sign advertising the Gros Morne Theatre Festival. We found out this was a series of several different plays given in various theatres in the Gros Morne area. As luck would have it, the motel we were checking into was also serving as a dinner theatre and would be having a play that very night. Unfortunately I have become a little jaded in my travels and thought to myself, "I'll bet this is going to be a very amateurish production." Well, I couldn't have been more mistaken. The dinner theatre production was put on by drama and music students from all over the country. They came to Newfoundland in the summer to enhance their skills. The production was about the sinking of the S.S. Ethie in 1919. It seems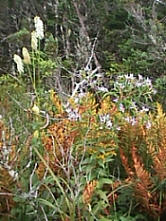 that the ill-fated vessel sailed out of Cow Head on December 10th, 1919. The ship was a passenger ship that also carried supplies for the people of the island. Several hours after the Ethie left port a terrible storm struck. Captain English who was piloting the ship had to make the decision of what to do at this time. Did they turn back and run the risk of crashing on the rocks? or did they try to ride the storm out at sea? For fourteen hours the brave crew battled the forces of nature and quickly found themselves running low on fuel. Finally, the storm lessened and they were able to see a point of land where they might be able to get close enough to shore to get help and get the passengers and crew off. The actual rescue has many variations. The one that they used in the play and that I thought was particularly romantic was that the people on shore saw that the ship was in trouble and had gathered on the shore. The ship attempted to shoot a lifeline to shore in hopes that they could use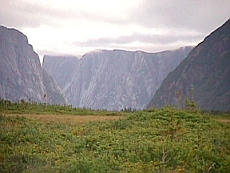 a boatswain's chair to evacuate the passengers and crew, but ALAS the rope fell short. There was no way that anyone on the shore could go out into the pounding surf to recover the rope, but one of the spectators on the shore had a massive Newfoundland dog who jumped into the water with no hesitation, grabbed the rope in his mouth and brought it to shore so it could be secured. After this it was only a matter of getting the passengers and crew off the ship. The wreckage of the S.S. Ethie can still be seen where they came ashore halfway between Cow Head and Bonne Bay. The production was one of the finest I have seen. What was really unique about the dinner theatre is that the actors became the waiters and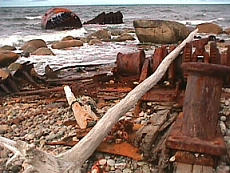 waitresses before the show and during the intermissions. They ended up doing the serving in the actual costumes and characters that they played during the play. It was fascinating! The next day we went out to the shoreline to see what was left of the S.S. Ethie, but unfortunately nature and scaavengers had both taken their toll on the grand old ship and little was left of her except the boiler and some of the hull. Whatever the truth of the rescue was, the production was well done and left us with still another view of Newfoundland. We really enjoyed our time in Gros Morne and would highly recommend it to anyone who loves to commune with nature. It is truly one of the unspoiled wilderness areas in North America and allows you to get close to nature and her creatures.

If you would like more information on Gros Morne and other parks in Canada, just log on to their website at: http://www.parkscanada.gc.ca.

Good Luck! Have Fun! and Stay Safe!
Laura