"Soo Locks" Tour
Sault Ste. Marie, Ontario
Canada, P6A5L8
June 7, 2000
After we move into a new area, one of my duties includes finding activities or places we can write stories about. (Tour director hat). After arriving at Sault Ste. Marie, Ontario, I started looking at various brochures. There were so many things to see and do it made the decision of where to go first difficult. Finally, I decided that I would like to take the boat tour through the locks on the Lock Tours Canada.
I don't know how many of you ever wondered how boats got from one place (higher) to another place that is lower. Well, we found out that they have a series of multiple locks. What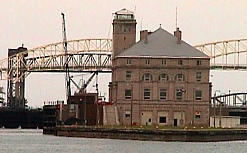 they look like are large compartments that have large double doors at each end. A boat approaches the locks (4 of them in this area) and a lock-master advises them by radio which lock they will be assigned to. This is pretty much based on the size of the vessel. The boat sails into the lock assigned, and then workers up on the side of the lock throw them heavy lines to secure them to the side of the lock while they wait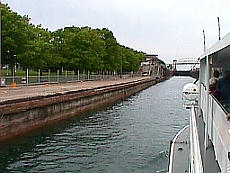 for the water to raise or lower. Then the water is let in or out depending on whether the boat is to be raised or lowered. The boat raises at a fairly quick rate of speed. When the water inside the lock is at the same height as the water it will go into, the second set of gates is opened and the boat proceeds on its way. It was fascinating to watch the process and to think how many years this has occurred. There are locks on both the American side and the Canadian side at this location. The boat that we chose to take our journey on was the Canadian boat "Chief Shingwauk". It was named after a famous local Indian. Captain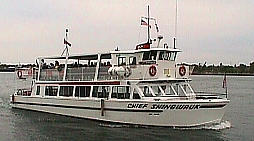 John Chomniak was obviously very familiar with the waterways in the area and narrated along the way. We learned about, not only, the locking procedure but also landmarks along the riverbanks (American as well as Canadian). He pointed out a local steel mill, which is the largest employer in the area. We also saw several historical sites along the shores. Our trip lasted about two hours. We first went through the lock on the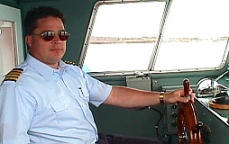 American side then we went up-river and finally went back through the Canadian Lock which was originally built in 1895. At the time it was the longest lock in the world at 900 feet in length by 60 ft wide. However, this lock was closed in 1987 due to damage but reopened in 1998. This lock is capable of moving 2 million gallons of water in 10 minutes. It was a strange feeling being on a boat while it is being raised by using only water power. There were flags raised over the area where the lock master was situated that represent the shipping companies that use the locks on a regular basis.
The trip was a very interesting one. If you would like to see more about the lock tours, check out their website at: http://www.locktours.com or call them at: 1-877-226-3665.

Good Luck! Have Fun! and Stay Safe!
Laura