The MacBride Museum
Home of Sam McGee
Whitehorse, Yukon Terr. Canada
August 24th, 2002
Having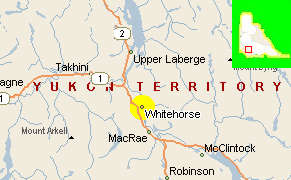 made the run out of the gold fields of Dawson City, Yukon, and arriving in the town of Whitehorse, I was surprised to find out just how much was going on in this Capital of the Yukon Territory. One of the stops on our tour of the town was to the MacBride Museum of the Yukon. This is where we found out all about the place I have come to call the pivot point to the 1898 gold rush. I have already talked extensively about the lives of the people in Skagway, Alaska in 1898, and again in Dawson City, Yukon at the same time. However, the pivot point of the great Gold Rush of 1898 was Whitehorse. People arriving over White Pass and other destinations, waited here to take the river boats to

Dawson. Gold coming from Dawson arrived in Whitehorse on its way to the United States. Whitehorse is named after the historic rapids on the Yukon River which resembled flowing manes of charging white horses. On the "Trail of 98" the stampedes had to bypass the treacherous water of Miles Canyon and White Horse Rapids, south of the present city. The Whitehorse Rapids became known as the greatest peril on the trail of '98. The construction of the Whitehorse hydro-electric dam in 1958 tamed Miles Canyon and has replaced the once foaming White
Horse Raids with Schwatka Lake reservoir. Wandering through the building brought out a feeling of what it might have been like at different times in this city. In 1897, two entrepreneurs capitalized on the obstacles created by the canyon and the rapids, by building a tramway on either side of the river. For a fee their horse-drawn tram cars carried goods and small boats around the rapids on log rails. A tent town called Canyon City appeared at the head of the tramway on the east bank A roadhouse and saloon provided lodging and refreshments to the tens of thousands of gold seekers on their way to the Klondike. Outside in a spacious yard, we found the remains of the great train era of the turn of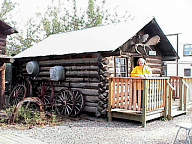 the century. Old engines and cars, hand cars and tools. Time and weather had taken their slow inevitable deteriorating process which gave the items a great antique look. In 1900 construction of the White Pass and Yukon Route railway from Skagway to a point past the rapids was completed; and Whitehorse came into being at its railhead. For years Whitehorse continued its role connecting rail service with riverboat traffic to Dawson in 1920, the first plane landed, in 1942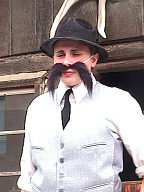 thousands of American Army personnel arrived to build the Alaska highway. In a record breaking 8 months and 23 days, 1534 miles of highway was laid down. The boom faded by the end of the war but Whitehorse had become an important center for communications and transportation. In 1953 the capital of the Yukon was transferred from Dawson City to Whitehorse. A small log cabin in the back of the park was the crowning point of the tour. Not because of its unique architecture for it was not much more then your basic line cabin of the turn of the century; it was the resident who lived quietly in obscurity that made the building so famous. Having settled into folding chairs in front of the cabin we were introduced to the man and the story by a costumed young girl who without much to-do, recited the famous poem "The Creation of Sam McGee" for we were sitting in front of the very home of the man who if not the inspiration of the story, most certainly lent his name for such creation.
NOW SAM McGEE WAS FROM TENNESSEE,
WHERE THE COTTON BLOOMS AND BLOWS
WHY HE LEFT HIS HOME IN THE SOUTH TO ROAM
ROUND THE POLE, GOD ONLY KNOWS.
HE WAS ALWAYS COLD, BUT THE LAND OF GOLD
SEEMED TO HOLD HIM LIKE A SPELL;
THOUGH HE'D SAY IN HIS HOMELY WAY
THAT "HE'D SOONER LIVE IN HELL"
The poem goes on to describe how poor old Sam finally succumbs to the cold on a sled ride and his good friend carries his corpse to a wrecked boat, on a lake, builds a fire in the boiler and stuffs old Sam in. He comes back later to find Sam basking in the heat and hears him ask for the boiler door to be closed as it was letting in the draft. The epic tale was the creation of a Whitehorse bank teller named Robert Service. It is reported that Service like the

sound of Sam's name and asked him if he could use it in his writings. Contrary to Robert Service's famous poem McGee was from Peterborough, Ontario, not Tennessee and claimed he actually enjoyed the winter cold. William Samuel McGee came north in 1898 looking for gold, but ended up staking the War Eagle, one of the first claims on the Whitehorse copper Belt. In 1899 McGee moved into this cabin. He lived here with his wife Ruth Warnes, from 1900 until they left the north in 1909. With this poem, McGee was immortalized. He died in 1940 at Bieseker, Alberta. The presentation was hokey and wonderful, and the poem recited perfectly.
*** THE END ***