Orwell Corner
Off the TransCanada Hwy., 25 km east of Charlottetown
Prince Edward Island, Canada
August 21, 2001
One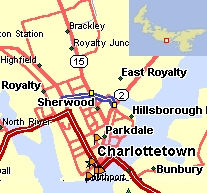 of the places we visited that was very interesting was Orwell Corner. We learned that Orwell was named after Lord Francis Orwell, Minister of Trade and Plantations by Samuel Holland, Surveyor-General of Prince Edward Island in 1765. People of Scottish origin landed in Orwell Bay in 1805 on the ship Polly. The hardy Scots had to clear the forest and set to work building a community with little more than their bare hands.
Because clearing the land was such a difficult task, the first crops were planted between the tree stumps. As more land was cleared they were able to use horse drawn ploughs, sanders, reapers and harvesters. Though the land was farmed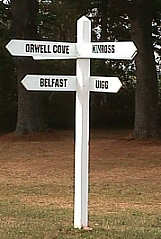 extensively, it retained fertility through applications of mussel mud from Orwell Bay. The community grew to support three general stores, butcher and tailor shops, grist and saw mills, blacksmith shops, shipyards and a cheese factory. These various businesses combined with home crafts of butter making, weaving and spinning to make the community self-sufficient.
As the population increased, a school and church were added to the community. These became focal points for the many community activities connected with each. The school Christmas concert and the church social were two of the events which provided much needed social activities in the busy lives of these rural people.
THE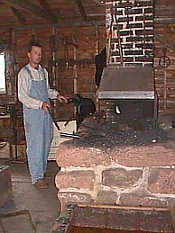 SITE
Agriculture has been an integral part of the social and economic fabric of island society. Orwell Corner recaptures the rural lifestyle of the small island communities of the late nineteenth century, like many of these rural crossroads, Orwell Corner includes a combined store and farmhouse, barns, a one room school, a blacksmiths shop, a church, a shingle mill and a community hall. The raising of livestock such as horses, cattle and sheep, and the planting and harvesting of crops in the same manner as almost a century ago created the sights, sounds and smells of our agricultural tradition.

...AND ITS DEVELOPMENT
The effort to establish an historical village at Orwell Corner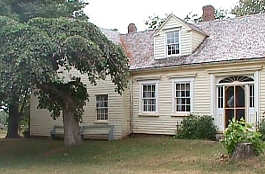 began in the late 1960s with the acquisition of the Orwell School. By the local women's institute and the Presbyterian Church by the Province of Prince Edward Island. It was, however, the centennial commission that began the project under the direction of the Department of Tourism and the heritage foundation. The site was opened to the public on July 15th, 1975 by Lieutenant-Governor George McKay.
In the same year the Orwell Corner Community Corporation was formed to organize and manage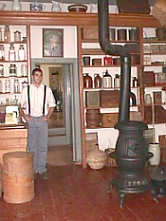 the historic site. Later the Corporation entered into an agreement with the Heritage Foundation to allow the Foundation to perform some of the duties of the corporation.
Initially the eleven acre site, consisted of the farmhouse, store, barns, church and school. In 1976-77 the blacksmith's shop and shingle-mill were added, in 1977-78 the community hall was built to serve as a meeting and activity center. Today, as you visit there you can experience the life and times of a rural crossroads community in the 1890s. As we visited the general store we heard the story of the "ghost" said to visit the second floor. Later we visited the tea room and enjoyed some of the local tea and scones. While it wasn't a large, extensive site, it certainly gave you the feeling of what it might have been like to live in a small crossroads community like Orwell Corners. Everything was very well done.

If you like to see more visit their website at: http://www.orwellcorner.isn.net.

Good Luck! Have Fun! and Stay Safe!
Laura