Ottawa
Canada's Capital
Ontario, Canada
July 23, 2001
Anytime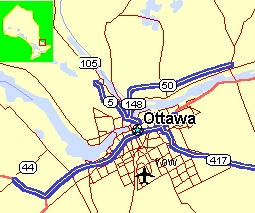 we visit a large town like Ottawa, it is difficult to know what to see and how to get there. In a number of other large towns we had seen ads for buses which would take you around to the various sites and allow you to get on or off the bus at your pleasure. We had never tried them before but decided to give it a shot in Ottawa. We found out that the tickets for the bus included 20 stops in and around Ottawa, cost $17 per person, and were good for 3 days. They also featured a five day bus tour that included one and off stops for five days, a sunday brunch, an Imax movie and free admission to the Canadian Museum fo Civilization. If you're going to be in the area for a week or more that is probably your best value. Our first mistake in going down to take the bus, was that I didn't ask if there was parking around the area where the central ticket booth was located. Big mistake! Their office was in the heart of downtown Ottawa and the parking lots we found around there would have been anywhere from $10 to $15 for the day. Ouch! Being the resourceful people that we were, we pulled down the street from the ticket booth, called them on our cell phone and asked if there was anywhere we could park and get on the bus. The girl suggested that we could park in the lot at the Aviation Museum and get the bus from there. My navigator (Bob) looked up the location of the Aviation Museum on our Ottawa map, plotted a course for there, and we were off. Lots of wonderful, free, parking space in the Aviation Museum parking lot. We left our truck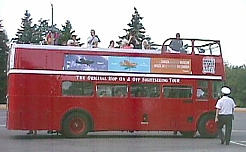 and took one of the sightseeing buses from there. We saw the sights on the second half of the tour, arriving back at the main ticket booth. We got off, paid for our passes, and went and got lunch. After a wonderful lunch at an Irish pub about 1/2 block away, we got on board a new bus and off we were to do the first part of the tour and return to our truck. One of the things that we saw along the way was Rideau Hall where the Governor General of Canada lives along with her husband. We decided that we would take Thursday to see that particular site. Running through the city is the beautiful Rideau Canal. The guide told us that in the winter they drain the Canal leaving only a small amount of water it in, which nature obligingly freezes. The city's occupants then use it as the world's largest skating rink. Many of the students use it as a means of getting back and forth to school. The city keeps the snow cleared off of it, and periodically scrapes the ice when needed. We did notice that in addition to the several different tour buses (the double decker ones from England) there are tour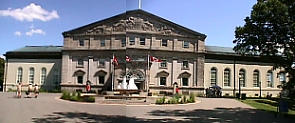 ducks that not only go on the land but in the water as well. Since I still recall the tour duck that sank several months back, I decided to stick to the land this time. When we went past Rideau Hall the tour guide also pointed out the home of the Prime Minister directly across the street. In addition, right next door was the home of the British Ambassador. Continuing down the street we passed the Saudi Arabian Royal embassy which was in the process of being built. Our tour guide pointed out that he thought it was a coincidence that the building of the embassy started right around the same time the price of gas started going up. (joke). Next we saw the American embassy. It seems that the windows are 4" thick, and the entire building is bomb proof. The tour guide, knowing we are from America, asked us what we thought we had to fear from the Canadians. We pointed out that Canada had never had an embassy blown up, but that we seemed to have lost several in the last few years. The parliament buildings were magnificent. They really were impressive. Once a day they have a "changing of the guards" ceremony. It is held in the morning about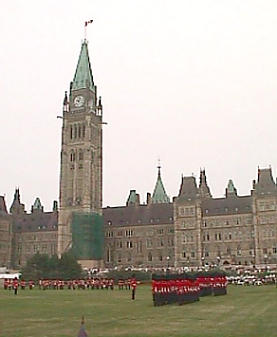 9:30 a.m.
On Sunday we went into downtown and found a delightful surprise. No heavy congestion and we were able to find free parking. I understand it's that way on Saturdays as well. Of course, it would stand to reason since all of the government workers aren't there on the weekends. We parked just a few blocks away from Parliament Hill and walked up to watch the changing of the guards ceremony. Bob was stationed in England when he was in the Air Force and said it looked a lot like the same ceremony held at Buckingham Palace. After we watched the changing of the guard we were crossing the street only to run into a group of picketers who were demonstrating against the G8 conference that was being held in Italy. The police dealt with the group in a very professional manner. Everyone had his or her say, wrote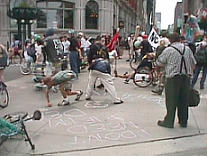 on the street with chalk and moved on.
Take away the bicycle paths, the flower gardens and even the legendary Changing of the Guard ritual, and one would still be left with the heart and soul of Ottawa--the federal government. The city is not only an arena for debate but also a livable place where people skate and bicycle to work, lunch in nearby parks and bask in the regal aura given off by the capital of Canada.
The area was initially a rendezvous site for fur traders, explorers and lumbermen. Because of its position at the confluence of the Ottawa and Rideau rivers, Samuel de Champlain established a base camp in 1613 for future expeditions from Québec to Lake Huron and other points. For 2 centuries the Ottawa River remained the only means of travel to the interior for many.
It is hard to believe that cosmopolitan Ottawa was once considered a poor sister of other major Ontario cities. Ottawa is noted for more than 70 municipal parks, tree-lined streets and noble landmarks. The city's aesthetic inclinations result from the fact that governmen
t is the chief employer, leaving Ottawa relatively free of the scars that often accompany industrialization.
The Department of Agriculture's 500-hectare (1,235-acre) Central Experimental Farm is just minutes away from historic and impressive government residences and embassies along the Mile of History (Sussex Drive). The 1,619 hectares (4,000 acres) of farmland and green space surrounding the city limits are part of the NCC Greenbelt, designed to limit urban sprawl. Trees, fresh air and Mother Nature are only a short drive from the center of the city.
Steeped in elegance and grace, Ottawa epitomizes a dignified capital. Residents have the luxury of parks, farms and a non-industrial environment while reaping the benefits of city life. Visitors will find that many Ottawans are natives; for with beauty, boundless recreational facilities, international cultures and a special joie de vivre, who needs anything else?
Good Luck! Have Fun! and Stay Safe!
Laura