Prince George
Railway & Forestry Museum
850 River Road
Prince George, BC
June 27, 2002

While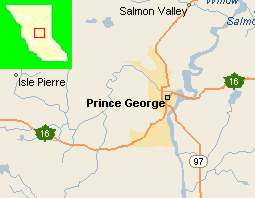 we were staying in Prince George we visited a very interesting museum in town. It was the Prince George Railway and Forestry Museum. The Railway and Forestry Museum revives Prince George's captivating history back to an era when the railway was the region's lifeline and forestry was becoming BC's future. The Museum presents an interesting and fun industrial heritage attraction in a spacious park-like setting, where visitors are free to enjoy a "hands on - climb aboard" experience. This museum features a dozen original railway buildings, including two stations. One of the stations contained something used for communication called an ASR (automatic-send-receive). Many years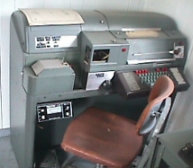 ago I was a clerk in a small police department, and one of the devices we were required to learn was an ASR (almost identical to the one they had in the museum).
I wanted to see what it would be like to operate one of those big snowplows. Bob said I looked right at home in the cab. Hmmmm, maybe a new occupation? Nope, that would require me being around snow and I just don't do snow anymore I told Bob when we retired the only four letter word starting with "S" I wanted to hear was sand. So far so good.
Items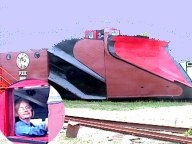 from eight past and present railway companies are displayed. There is also a small collection of forestry, mining and agricultural machinery. It is home to one of the largest vintage rail collections in BC, the Museum's varied collection dates from 1899 to the 1960's and includes numerous building, structures, locomotives, rail cars and artifacts from the steam and diesel railway eras. In the center of the yard was featured forest industry, fire fighting, and early communication equipment rounds out this distinctive collection. The Museum opened in July 1986 to coincide with Expo '86 and the 150th Anniversary of rail travel in Canada. The Museum
provides an entertaining and informative experience for all - presenting and preserving the past for the future. This museum features a dozen original railway buildings, including 2 stations. In the center of the yard is what is called a turntable. This turntable was originally located at the CNR Roundhouse in Prince George, it was dynamited from its foundation in 1984 and donated to the Museum. Installed in its present location in 1990. The 1913 turntable weighs 102 tons, is 88 feet long and has a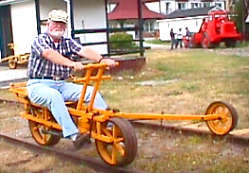 load capacity of 394,000 pounds. Among the 50 pieces of rolling stock are five locomotives, a 1903 snow plow. Items from 8 past and present railway companies are displayed. Bob decided that he would try out one of the road repair cars called a wheel car. However, after a few strokes he decided that it was a little too much like work. (However, I think I'll keep him as my photography model. Good looking, plus he works cheap). There is also a small collection of forestry, mining and agricultural machinery. This museum features a dozen original railway buildings, including 2 stations. While this definitely isn't one of the largest museums we've visited it certainly has a nice cross section of equipment and definitely lets you get up close and personal.
If you're interested in finding out more about this museum check out their website at:
Good Luck! Have Fun! and Stay Safe!
Laura