Rideau Hall
1 Sussex Drive
Ottawa, Ontario, Canada
July 19, 2001
While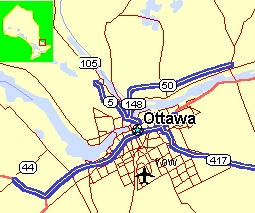 we were touring around Ottawa, one of the beautiful things that we saw on the tour was Rideau Hall. We were told that Rideau Hall is where the Governor General of Canada resides. The present Governor General is a lovely lady by the name of Adrienne Clarkson who resides in Rideau Hall with her husband, John Ralston Saul. We found out that Ms. Clarkson is the first naturalized citizen of Canada to ever be appointed to that prestigious position, having originally emigrated to Canada from Hong Kong. The position of Governor General dates back to 1608 when Samuel de Champlain acted as Governor of New France. Today, the Governor General represents the Queen as Canada's Head of State, welcomes visiting royalty, presidents and dignitaries, opens Parliament, and is Commander-in-Chief of the Canadian Forces. As you approach the front of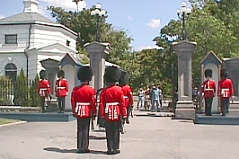 the property that Rideau Hall is located on the first thing you see is the guard post with the handsome sentries wearing full ceremonial dress of the Canadian Royal Guard. Every hour they have a changing of the guard much the same as they do on the lawn of Parliament, but on a much smaller scale. It is fascinating to watch as the guards march out from their quarters to the front gate accompanied by a piper. The guards are resplendent in their scarlet tunics and bearskin hats. When we were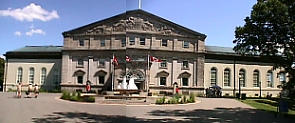 there the weather was quite warm and we watched as the poor guards had to stand, absolutely still, as sweat poured down their faces. The quarters here at Rideau is where the guards who do the changing of the guard on Parliament's lawn reside. When it was first constructed the grounds included many more acres but today it is still 79 acres of shady forests and rolling lawns. The grounds are open to the public on a daily basis year round. However, when the Governor General is in residence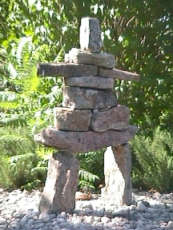 they limit the tours to a specific portion of the house. It is possible to tell if the Governor is in residence by checking for her standard - a blue flag with a crowned gold lion holding a red maple leaf - flying over the house. They have made a great effort to make everyone feel welcome on the grounds but youngsters have special activities in a tent area next to the visitors' center such as; designing their own coat of arms, build an Inuksuk, or march like a guard.
On the grounds is an inuksuk. An inuksuk symbolizes the North and tells whoever passes that man has been here before. In the visitors' center they tell about the importance of the inuksuk to early Arctic travelers.
As you first go onto the grounds you are directed to the Visitors' Center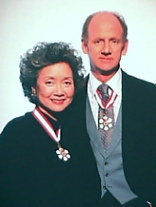 where you can learn much about the office of Governor General and what tours are available. There is no admission and no charge for any of the tours. They have tours of the residence, both guided and self-guided. During much of the year they have guided art tours. These feature the magnificent collection of art and furniture housed at Rideau Hall. There are also horticultural tours, gardens and greenhouse tours. One thing that I found fascinating was the fact that you were permitted to take pictures anywhere on the grounds or in the house, but not in the gardens at the rear of the house. When we questioned this we were told that they felt pictures in the rear of the house could compromise the security and the privacy of the Governor General.
The house was one of the grandest we have seen and was obviously well maintained, since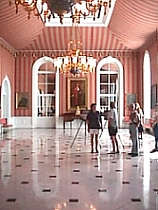 the Governors General have all resided there since the 1800s. The gardens in the back were beautiful and there were several terraces on the back of the house where the Governor and her husband could take their meals and enjoy their beautiful surroundings.
On the grounds there were trees all over, that had been planted by visiting dignitaries. The guides seemed to take special care to point out that the tree planted by our President Nixon grew crooked. It seems that the original one grew crooked and then it died. When they replaced it with a similar tree that also grew crooked. Strange, eh?
We managed to spend most of an afternoon just wandering around the beautiful grounds and house. It is truly lovely and not to be missed if you get to Ottawa. Of course if you're not traveling up that way you can always check out their website
at: www.gg.ca.

Good Luck! Have Fun! and Stay Safe!
Laura