Natural Bridge Caverns
26495 Natural Bridge Caverns Rd.
Natural Bridge Caverns, Tx 78266
(between San Antonio & New Baunfels, I-35 exit 175)
March 05, 2000
In traveling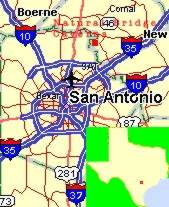 across the U.S. we have found that it is almost impossible to see everything in some areas. One of these examples is San Antonio. We had met up with our Field Editor, Lynn Davis and his lovely wife, Sue, in Harlingen, at a Y2K rally sponsored by RV America. We told Sue and Lynn that after the rally we wanted to travel together to San Antonio because we wanted to be able to show them around there. We showed them the standard things that you would see in San Antonio, such as the Tower of the Americas, and the Riverwalk.
Then, as we oftentimes do, we looked around and found new and undiscovered things that we missed our last time around. One of these was the Natural Bridge Caverns. We got the directions, and off we went in search of a new story about San Antonio. When the average person thinks of Texas you think of Big, Sandy, and Flat. Well, a good deal of Texas is like that. But in this particular section of Texas (called "Hill Country") they also had caves. I wouldn't say that the Natural Bridge Caverns were quite on the scale of Mammoth Cave in Kentucky, but for anyone who has never been in caves before they were quite impressive.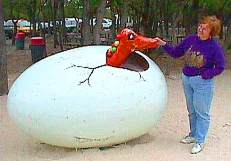 Unfortunately we were not able to convince Sue that going underground in some drafty, dark caves would be fun, but we were able to talk Lynn into going along as driver and assistant photographer. Some of the shots in this story were taken with his camera. As we pulled into the parking lot we saw a nice area set up for picnics for families. One area was a playground for children and had statues of Dinosaurs. The one was of a baby dino just hatching out of its egg. I had to go say "Hi" to the little fellow he was just too cute.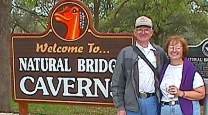 Just to give you a little background on the caves we found out that they were discovered in March 27, 1960 by four college students from St. Mary's University, San Antonio. They were named for the rock bridge that forms the entrance. It was dedicated on August 5, 1964 by Governor John Connally. The cave is of the early Cretaceous Age: still forming. It is the site of artifacts from 5000 B.C. , and human remains at least 8000 years old, also Indian campsites.
We got to the visitors center and purchased our tickets. Shortly after that we got to meet our tour guide,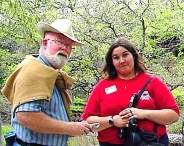 Sarah Shodrock. Sarah gave us the usual welcome speech along with a request to be sure and not touch the sides of the cave as the oil from our hands would cause the cave to stop "growing". She showed us examples of where the bats had been some thousands of years ago, and how the Stalactites had stopped growing in the area where the bats had roosted. I have always had problems remembering which were stalactites and which were stalagmites. Well, Sarah solved that problem for me for good. She told us that the ones hanging down from the ceiling were stalactites (they had to hang on tight to stay up), and the ones coming up from the floor were Stalagmites (they might reach the ceiling someday). Cute huh? There were about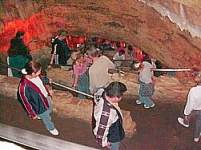 25 people in the group that we were in. (Folks, I do want to mention that the pictures we have inside the cave were taken by Sony Mavica digital cameras, which we then digitally enhanced to bring up the light. So when you see these pictures, please don't jab your significant other in the ribs going, "Why can't we get pictures like those." We have put a lot of time and effort into getting just the right equipment and then enhancing them so that we can bring you pictures you will enjoy and can recognize. )
The walk, which is around 3/4 a mile in length and about 200 feet deep, was a bit grueling at times. Either straight down or straight up. The walkway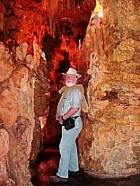 was often wet and the water which fortunately is 99 percent pure, dripped from the ceiling and into everybody's hair. Some of the passageways were quite narrow while other parts were huge rooms filled with limestone columns created thousands of years ago by the steady dripping of water from the ceiling. The temperature was reported to be 70 degrees but with a 99 percent humidity, the effect was that of around 85 degrees. By the time we got out we were soaked through, from the humidity, not the water dripping from the ceiling.
One of the things you have to remember is that you can surprise all sorts of strange creatures inside these caverns, so you have to be very careful as you go around corners. (Just kidding Sweetie-this of course is my beloved hubby, Bob.)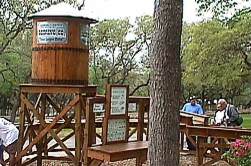 All in all, it was well worth the effort. As you exited the tour there was, of course, the usual snack shop and gift shop. In the gift shop they had bags of dirt that you could buy and then go outside to their old time sluice operating in the side yard and sift the dirt with the water running through the sluice. Lynn bought a bag of dirt and allowed me to have the fun sifting. Of course he said I could keep anything I found (unless it was valuable in which case we would go back and negotiate the original agreement. (HUH?) Oh well. I went panning for gold and found all kind rocks and even some pyrite gold. It was a fun time. Their website address is: http://www.naturalbridgecaverns.com.