Cookin' Cajun Cooking School
#1 Poydras St.
Store 116 Riverwalk
New Orleans, LA. 70130
January 27, 2000
I saw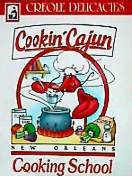 a brochure for the Cookin' Cajun Cooking School. I called to make a reservation for class, and Bob got permission from the owner: Chef Susan Murphy to take photos of the class which would be held the next day.
We went down a little early just to make sure we were on time, in case we had any problems finding the location, finding parking, etc. The parking lot is located right in front of the Riverwalk complex and there was plenty of parking. Unfortunately the day was rather chilly for N.O. as the natives were quick to point out.
When we got to the Cooking School location we met Chef Cindy Miller (my instructor) who told us we would have to wait until they got everything set up. In the meantime we browsed the store looking at all the cooking utensils and spices they had for sale as well as various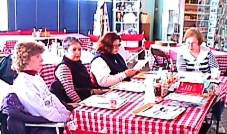 souvenirs. In the meantime Bob found the menu for the class I would be taking. The menu featured: Oysters Rockefeller, Mardi Gras Salad, Shrimp Creole over rice, and PecanPie/Tarts. Cindy and her helpers got the classroom set up about the same time as the other participants arrived. The tables were set up with silverware, trays, copies of the recipes we would learn and pencils for notes. Cindy had some ingredients left over from an earlier class which allowed her to streamline things a bit.
Cindy explained that the size of the classes can vary anywhere from one or two to a dozen. There were three other ladies in my class: Mari Beth Hull from Illinois, Carol Carlos from Freemont, CA, and Lucille Lucero also from Freemont,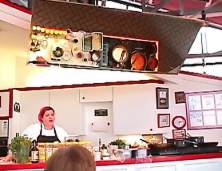 CA.
Cindy first demonstrated how to poach oysters. These were served to us with a Rockefeller sauce, that was previously prepared, on thin slices of French bread. Although I have had Oysters Rockefeller before I had
never had them presented that way. We also got helpings of the Mardi Gras salad, which was lettuce cut up in bite sized pieces served with a type of vinegarette dressing. Both were very good.
She then showed the preparation on the Pecan Pie/tarts as those had to bake the longest of anything on the menu. Having a class the size we did was really helpful because Cindy was able to take her time and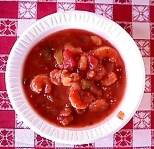 explain anything we had questions about. After the Pecan Pie-tarts were put in the oven she then went on to demonstrate how to prepare a roue, which is pretty much a base for much of Cajun cooking. While she was doing this she explained the difference between Cajun and Creole cooking. Cajun is a bit hotter, and the Cajun people learned to cook using whatever wild game and/or seafood was available, due to their locations in or around swamps. That meant that their dishes featured a lot of crawfish, alligator, possum, venison; in other words "they would eat anything that wouldn't eat them first." I have tried preparing a roue in the past and knew how difficult it could be getting it just right, without burning it. She explained that there are 4 shades you can prepare a roue: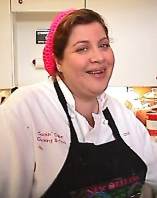 1)blonde, 2)peanut butter, 3)Mahogany, and 4)chocolate. The chocolate is usually only used with a gumbo. As she was explaining about the Cajun/Creole cooking she was showing us how to make a Creole Sauce which you can use with any number of additives such as; shrimp, crawfish, or even chicken. It would then be served over a bed of rice. We got a dish of the Shrimp Creole, which was excellent. It was spicy, but not too hot. Not one single person in the class had to go running for the water pitcher. As we were consuming the Shrimp Creole Cindy went on to demonstrate how to prepare the Rockefeller Sauce. Supposedly it got its name during the time that John D. Rockefeller was prominent. Someone said that the oysters were as "rich as Rockefeller" and the name just stuck. Something that I did not know is that Oysters Rockefeller were created in a local restaurant called "Antoine's". Antoine's Restaurant is the oldest restaurant that has remained in the same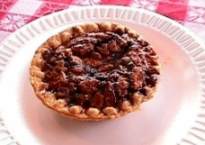 family, the entire time. Unfortunately the day we were walking about the Quarter (French Quarter) Antoine's was closed.
About the time the Rockefeller sauce was prepared the Pecan Pie/Tarts were ready to be taken out of the oven and served. YUM! They were excellent. Before she put the main ingredients into the shells she ground up some chocolate and put it into the shells first. It gave the tart just a hint of Chocolate (which I might have mentioned before I LOVE). Along with the Pecan Pie/Tart we were served Cafe Latte. There then was a question and answer period in which we could ask any questions we had about anything that was covered in the class or just cooking questions in general. I feel that Cindy did an excellent job and would certainly recommend the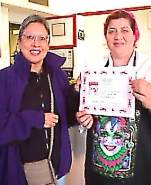 class to anyone visiting N.O. or just anyone who has an interest in or questions about Cajun or Creole cooking. I might add that during the class I constantly noticed this slurping sound coming from my husband/photographer/helpmate, as he also was given servings of all the food prepared. I'm just glad he was able to stop eating long enough to get the pictures. (ha-ha).
They have an interesting way of giving diplomas. Once you prepare any one of the recipes you learned in a class, you drop them a note or email and let them know and they will send you a diploma. Great Job Cindy! Thanks again.
If you would like more information about the Cookin' Cajun Cooking School you can contact them at 1-800-786-0941 or 504-586-8832.

Good Luck! Have Fun! and Stay Safe!
Laura
*** THE END ***