National Cowboy Hall of Fame
1700 N. E. 63rd St.
Oklahoma Cit, OK 73111
March 19, 2000
While looking around Oklahoma City for something to do, the National Cowboy Hal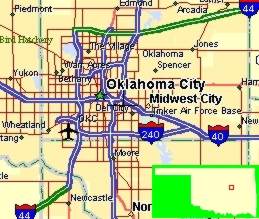 l of Fame caught my eye. We went out on a Sunday to take a look around, wondering if it was going to be something really nice or just a small building with a collection of "smelly saddles." Well, it was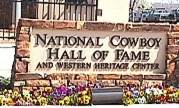 impressive. The admission fee, which included all the exhibits and buildings was $8.50 per person. We found out that they have over 6000 artifacts contained in the collection. It featured several different rooms or areas. They had:
1. Prosperity Junction which was a recreation of a turn-of-the-century cattle town. Bob couldn't resist "bellying up to the bar."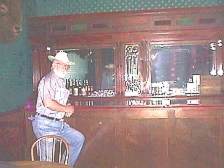 Unfortunately the bar was not stocked at the time. Picture moment only! Darn. This was a neat town in that they had speakers playing background noises that made you feel like you were actually in a cattle town years ago.
2. The American Cowboy Gallery, which covered 8000 sq. ft. devoted to cowboy history and culture. They featured saddles, bridles and barbed wire collections.
3. The American Rodeo Gallery, this was a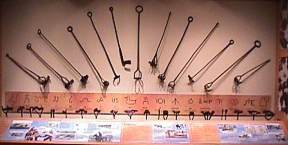 tribute to the many people (women as well as men) who chose the rough occupation of rodeo riding. They had an audio presentation done by none other than Reba McIntire.
4. The Joe Grandee Museum of the Frontier West. This was a presentation that was just opened and featured the painting of Joe Grandee. Some of these were just fantastic.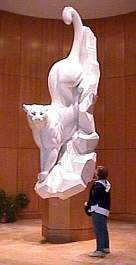 5. Native American Gallery - unfortunately this had not opened yet by the time we were there. It is scheduled to open in the fall of 2000.
6. Grace B. Kerr Gallery - features touring exhibitions. Items on loan from other museums.
A piece of sculpture called Canyon Princess was absolutely spectacular. It was a sculpture of a mountain lion. It was so real that I almost felt she was getting ready to spring.
They also had a children's cowboy corral where the "little wranglers" could get a hands-on look at things that were used by the ages-old cowboys. I couldn't resist trying my hand at steer wrestling. I'm not sure who won this one.
They had a lot of sculptures and pictures along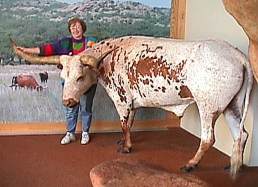 with several traveling exhibits of paintings. It covered several different facets of cowboy life, including the cowboys who rode the range, along with the cowboys who rode the rodeo circuits and last but certainly not least the cowboys we have all come to know and love, the ones who rode the silver screen. They started with cowboys that were in the original black and white silent movies, up to and including "The Duke" (John Wayne). They even featured some clips out of a number of John Wayne's movies. Actually I think there was even one or two that Bob had not seen.
All in all it was a pretty comprehensive look at cowboy life as it was then and as it is today. If you would like to learn more, check out their website at: http://www.cowboyhalloffame.org.

Good Luck! Have Fun! and Stay Safe!
Laura