9th Annual
Cochise Cowboy Poetry
&
Music Gathering
Sierra Vista, AZ
February 02, 2001

NOTE: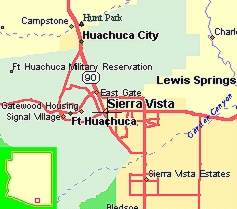 You can click on some of the performers pictures and go to his/her website.
While staying at an RV park just outside of Tucson, Arizona (Jan 2-16), we were introduced to a delightful lady by the name of Nona Kelley Carver and her husband Alfred. After some conversation we found out that Nona was what is termed a "cowboy poet". Nona told us that she would be appearing at the Cochise Cowboy Poetry & Music Gathering to be held in Sierra Vista, Arizona, Feb 2,3, & 4, 2001. While we are not ones to make commitments very far ahead, from what Nona told us, this Gathering sounded intriguing and we set about making RV park reservations and getting tickets for the night that Nona would be appearing. (Feb 2 - Friday). After arriving in Sierra Vista on January 23, we set about getting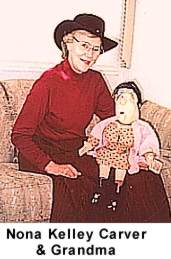 tickets and finding out more about the Cochise Gathering. Well, if we thought it was just going to be a show that was held in the town we were wrong. The Cochise Gathering was more of a community effort. Everywhere we went we heard people talking about it, or heard commercials for it on the radio or TV or saw big signs with information. In addition to all that, one night at our RV park we were treated to a sampling of what we would see and hear by a man by the name of Bud Strom. While we didn't know it at the time, we later found out that Bud, along with John Shaver, were some of the movers and shakers of the Cochise Gathering. Bud introduced himself, gave a little of the background of the Cochise Gathering and did a couple of his poems. It's difficult here, to go into Bud's entire background, but to tell you just a little,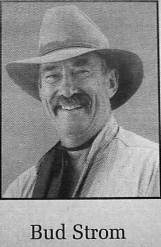 this man was at one time a General in the Army stationed at nearby Ft. Huachuca. After he retired he realized that much of the old-time cowboy poetry would be lost with the passing of the present generation if someone didn't do something to generate interest in the upcoming younger generation. And that is just what Bud did. With a great deal of help from the local community and the school system, he instituted a course of study in the schools from grades 3 through 12, of cowboy poetry. The first year he started they got about 100 poems from the students. This year they got approximately 3500. Wow! What a difference. We found out that several of the top contenders in the students writing contests were scheduled to appear at the gathering as well. On Thursday night - February 1 - they held an impromptu performance at Big Nose Kate's in nearby Tombstone. There was a real camaraderie among the performers as most of them had met before at one time or another. In attending this get together, it would have been very difficult not to get excited about the coming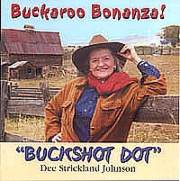 shows. As I had said before, the main reason we had come was to see Nona, who was scheduled to appear the following evening. So we purchased tickets for Friday and got ready to watch our favorite poet perform, along with the others on the schedule. There were so many things going on that it is difficult to cover them all. One of the conditions of the performers appearing in the shows was that they would hold seminars at the local school for anyone that wanted to attend. Unfortunately we had made some prior commitments with friends and wasn't able to get to the seminars. We attended the performance on Friday night and were utterly charmed by the performers and the performances. Along with the professional artists there were two juvenile prize winners who did a recitation of his or her poem. If you picture a Cowboy Gathering as a boring time of nothing but poem after poem, get that image right out of your head. It was a magical time that these performers took you back into the Old West through poems, as well as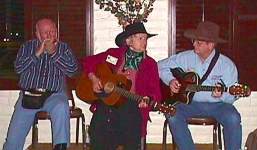 music and singing. After the performance on Friday night we turned around and bought tickets for Saturday and Sunday. (Now I want you to understand that this is very, very unusual for us. We never repeat an event. But this was an exceptional reason to break our rule). After purchasing our tickets we headed out to the Thunder Mountain Inn for an Informal Cowboy Music Jam. What a thrill! Not only did we get to meet the performers in an informal atmosphere but if you sang or played an instrument you could sit in with them. Well, Bob just happened to have his harmonica with him and got to sit in with Buckshot Dot in one of the areas. They had 3-4 areas that people were playing in. I just kind of wandered from room to room, listening to all the different instruments and songs that were being played. The jam sessions lasted for several hours and Bob went home a very happy camper, having played music with the professionals.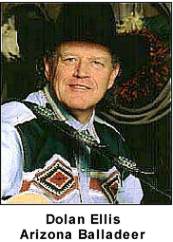 Saturday we attended the next performance and the attendance was much larger than it had been on Friday. I could only feel for the kids that performed their poetry but they did an excellent job. Sunday was an afternoon performance with a somewhat smaller audience, but again was wonderful. I understand the attendance for all three days was between 3000-5000 people. I don't know if words are adequate to describe the beautiful warm feelings I came away with from this Cowboy Gathering. I had an inkling of what Cowboy Poetry was having read some in the past, but hearing it performed by the people who created it, gives a whole new dimension to it. If you have an opportunity to attend this or any other Cowboy Poetry Gathering be sure you don't pass it up. I'm sure you'll enjoy it as much as we did.
Good Luck! Have Fun! and Stay Safe!
Laura