Crazy Horse Memorial
U.S. 16/385
Crazy Horse, SD
June 15, 2002
After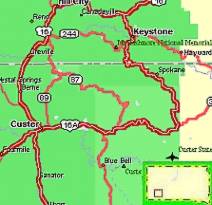 having visited Mt. Rushmore and being very impressed by the sculpting done on the mountain, we heard about another sculpture, in progress, on a mountain nearby. This sculpture was of Chief Crazy Horse. After visiting Mt. Rushmore and learning the story of its creation it was heard to think of anything coming anywhere near as impressive. However, the Crazy Horse Memorial certainly rivaled it. Unlike Mt. Rushmore that was funded by the US government, the Crazy Horse was funded entirely by private funds. The story began, after having seen Mt. Rushmore, Lakota Chief Henry Standing Bear wrote to Korczak Ziolkowski (a renowned sculptor) and said "My fellow chiefs and I would like the white man to know the red man has great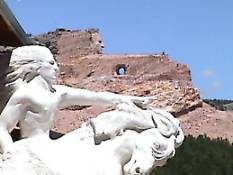 heroes, too" . It seems that Chief Standing Bear learned of Korczak's Paderewski: Study of an Immortal won first prize, by popular vote, at the 1939 New York World's Fair. Korczak arrived in the Black Hills on May 3, 1947, to accept the Indians' invitation. When he started work on the mountain in 1949, he was almost 40 and had only $174 left to his name. Over the decades he battled financial hardship, racial prejudice, injuries and advancing age. A strong believer in the free enterprise system, he felt Crazy Horse should be a nonprofit, educational, and cultural,
humanitarian project built by the interested public and not the taxpayer. So, he twice turned down ten million dollars in potential federal funding. He knew at the outset Crazy Horse was much larger than any one person's lifetime; so, he and his wife, Ruth, prepared three books of detailed plans to be used with his scale models to continue the project. Unfortunately as he believed he was not able to finish his work, but died in 1982. However, his beloved wife, Ruth, and several of their children continue the work to this day. The Crazy Horse Memorial is much more than just a sculpture on the mountain. The supporting buildings presently encompass an Indian Museum of North America which has a number of Indian artifacts as well as many examples Indian arts and crafts. There was also a theater which shows a movie of the mountain from its inception to the present day. There are a number of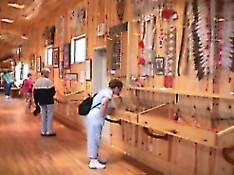 Korczak's works on display as well as his workshop. Also included around the area are several of the smaller models he carved before he undertook the carving of the mountain itself. Eventually their hope is for the complex to include an Indian University and Medical Training Center. When it is completed the Crazy Horse Monument will be 563 ft in-the-round. In comparison the Washington Monument in Washington, DC, is 555 ft. and the largest pyramid in the world a mere 481 ft. In addition to touring the buildings, it is possible, for an additional charge, to take a tour bus to the base of the monument.
Many who look at the mountain ask "Why Crazy Horse?" The sculptor said that Crazy Horse, as far as the scale model is concerned, is to be carved not so much as a lineal likeness but more as a memorial to the spirit of Crazy Horse -- to his people. With his left hand thrown out pointing in answer to the derisive question asked by a white man, "Where are your lands now?" he replied, "My lands are where my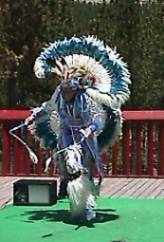 dead lie buried." And so, when it is finished, we will see the fantastic sculpture of a proud Indian sitting astride his war pony pointing in the direction of his buried dead.
The story of how Korczak began the sculpture is one of extraordinary vision and determination. In an area of the country where he didn't even have electricity Korczak brought in an old gas-powered generator and started his work, single-handedly. In the film which described how the project began we saw Korczak start up the old generator, which seldom fired on the first try. Generally it required some coaxing and several pulls to get it started. Then Korczak would start up a long set of wooden ladders, only to have to go back down, if the generator failed. All of this he did while carrying an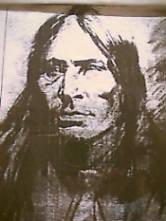 extremely heavy load of tools to be used in the carving that day. He mentioned in the film that on one occasion he had to climb down nine times during one single day. As I looked at the wooden ladders I couldn't imagine having to climb them one time, let alone nine times in one day.
It is difficult in our society today, that emphasizes the creature comforts, to imagine someone that would not only be willing to take on such an undertaking, but to do so, with such little hope of personal rewards. Korczak embodied the pioneer spirit that allowed our country to grow strong and our people to prosper. One can only imagine what drives a man to do something such as this when it involves the cause of another people. After looking at this very impressive memorial I can only say that I am extremely grateful that he did and hope that someday I can come back and see it when it is completed.
I would definitely recommend that if you get to South Dakota, be sure and put this high on your list of things to see.
If you can't get there soon, try visiting their website at: http://www.crazyhorse.org.
Good Luck! Have Fun! and Stay Safe!
Laura