A Day to Remember
Texas School Book Depository
Dallas, Texas
March 16, 2000
"So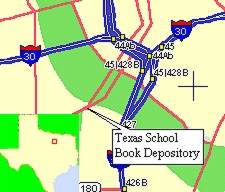 where were you when Kennedy was assassinated?" For years after that fateful day in 1963, it was a common question at parties and gatherings throughout the world. I was sitting on the floor of an apartment on Lafayette St. in Cincinnati, surrounded by three lovely girls, enjoying my second day of a three day furlough, while doing a four year stretch in the Air Force. I actually remember the pressured voice of the announcer who "broke in" to the broadcast with a special announcement. I mostly remember it because of the ending statement made by the announcer. "A National Emergency exists and all military leave has been canceled. All military personnel are to report immediately to their respective stations", or something to that effect. It was a day that touched many people in many ways.
Some 37 years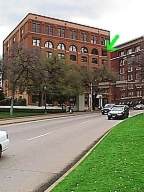 later, my wife and I found ourselves standing at Elm and Houston, in downtown Dallas, looking up at the sixth floor of the building at 411 Elm. Now called The Dallas County Administration Building, it will remain forever in the minds of many Dallas residents, and others around the world, as the "Texas School Book Depository".
I remember 1963 as a tremulous year, conflict and crisis seemed to be everywhere. The civil rights movement was at its pinnacle. President John F. Kennedy needed the southern vote in the coming election year and decided to campaign in Texas in November. That same month, a quite unobtrusive man named Lee Harvey Oswald took a job with the Texas School Book Depository Co. On November 22nd, an estimated 200,000 people greeted the presidential motorcade as it passed through downtown Dallas, on its way to a sold-out luncheon at the Trade Mart. On that day, Abraham Zapruder, played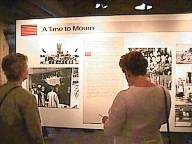 with his new Bell and Howell Model 414PD 8 mm camera. As the presidential caravan approached, Abraham climbed up upon a concrete abutment and switching his Varamat zoom lens to close-up, turned his camera toward the presidential procession. At 12:30, the limousine carrying Kennedy and Governor John B. Connally of Texas turned west off Houston and onto Elm. Seconds later, at least 3 shots rang out and John F. Kennedy slumped forward. With the grand reception just minutes away, all reporters were gathered at the Trade Mart. Abraham Zapruder would enter the history books as the only person to have filmed the entire assignation close up. A fact that would change his life. The story of that 10 second film, and the camera that was used is, in itself, a study in history. Between pressure from the media and the demands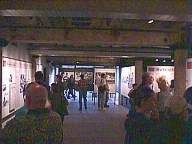 of the government, it was soon out of Abraham's hands. The film would become one of the most studied and interpreted pieces of cellulose ever recorded. Rather than clarify the event, it would eventually become the focal point of the "conspiracy" theory. Big media was quick to focus on anything that was controversial. Government, on the other hand demanded answers. By 1964, a congressional commission was appointed to be headed by Justice Earl Warren of the Supreme Court, which is now known as the Warren Commission. "Who shot JFK" became the decade's most challenging question. Today there is still no definitive answer. Some things are clear and accepted. Lee Harvey Oswald, fired a fatal shot at President John F. Kennedy from the southeast corner window on the sixth floor of the Texas School Book Depository Co. building. That window, that floor, that building, is now and forever cast, for better or worse, into the history and fabric of this great country. After the shooting, the infamous building would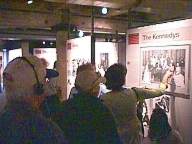 change hands several times and finally fall into disrepair. Controversy would continue as to what was to be done with it. There were those who desired it be torn down, but Dallas refused to issue a demolition permit and the building continued to deteriorate. Then in 1977 the city passed a bond issue which included $400,000 to purchase the building. After that the first 5 floors were converted into office space and the county administration moved in. The 6th floor would remained closed to the public. The next 11 years saw a continuously increasing amount of traffic, as visitors continued to flock to the building to look up at the infamous window. In 1988 another bond issue was passed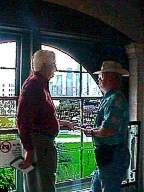 to create a visitors center with an external elevator to transport people to the 6th floor. Today over 450,000 visitors a year come to see the exhibits and peer out the window next to the corner window which is glassed in. The "Sixth Floor Museum at Dealey Plaza" is now administered to by a non-profit organization established in 1983. The foundation opened the museum on Presidents' Day, February 20, 1989. The 9000 square foot museum contains nearly 400 historic photographs, six documentary files, an audio tour and a range of artifacts and interpretive displays to document the life, times, death and legacy of President John F. Kennedy.
First of all you have to understand that there were signs up all over "No pictures." That usually means we smile politely and leave. After talking with Bob Porter, the Director of Communications and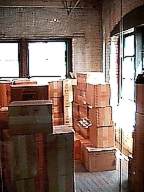 explaining what it is that we do, he graciously allowed us to take pictures, with the understanding that we would not interfere with any of the other visitors, which we, of course, agreed to do. That is something we try to do anyway when we visit somewhere. I don't think there is anything more annoying than someone who blocks everyone's way just to get "the perfect picture." We have found that if we have patience and wait, usually we can get just the picture we want without interfering with anyone else.
Bob, likes to look at the technical end of things and I usually end up looking at the emotional. Well, this museum was no different. We went inside and up in the elevator to where the main exhibits were located. As we stepped off the elevator I could feel my stomach muscles tighten and hear myself thinking "Wow! I'm really here. This is where Oswald (if it was Oswald that shot Kennedy) stood when he shot HIM." For any of us who were old enough to remember the events, and feelings, of that day, it was a very emotional memory.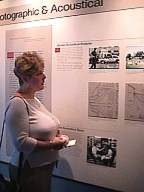 Sometimes when feelings like these well up in me, I try to keep them under wraps thinking that I should be more adult and not show my feelings. Folks, I want to tell you in that Museum I was not alone. The strange thing was, there were people there who weren't even old enough to remember, but were moved to tears by the many exhibits, pictures, and audio presentations. One lady in particular I saw with a tissue constantly in her hand. I went over and introduced myself and asked if we could photograph her. I found out that her name was Jean Hurdle and she was from Richmond, Texas. At first she was a little reluctant, because she felt she was making a fool out of herself. When I pointed out that she wasn't the only one with tears running down her cheeks she allowed us to take her picture. I realize that the way the presentations were done had something to do with it, but I think in general the people were crying for the terrible loss suffered not only by the Kennedy family but us as a nation. If you ever go, be sure and take lots of tissues with you. Don't want to give any family secrets away but I could have sworn I saw some moisture in my hubby's eyes as well.