Deadwood
"The Portal to the Past"
Deadwood, SD
June 15, 2002
While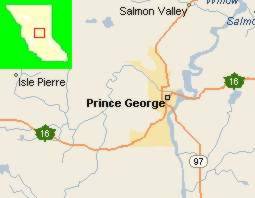 visiting Mt. Rushmore we couldn't resist taking a run over to Deadwood and revisit some of South Dakota's colorful past. The first place we stopped was the History and Interpretive Center where we viewed the Deadwood Termesphere. A termesphere, we found out, is a polyethylene globe onto which a scene is then painted. This particular termesphere was created by a world-renowned artist and local resident, Dick Termes. In order to create this particular work of art Mr. Termes did extensive research on the subject, in this case the early days of the gold rush in Deadwood. He spent many hours at local resources. Then, after compiling the research, Mr. Termes began the transformation of the polyethylene globe into a piece of artwork. The globe was roughened with sandpaper, and the seam was filled with a custom body filler usually used for automobiles. It was then sanded again, repeating as many times as necessary. After this Mr. Termes applied gesso, an acrylic base coat material used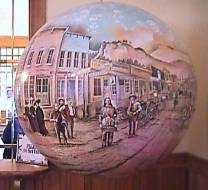 for the surface of a painting. It too was sanded, as often as necessary to create the smooth surface. The surface was then ready for the preliminary pencil drawing of the Deadwood streets and buildings. The photos found in research are numbered according to placement on the street and used for the drawing on the globe. As Mr. Termes' vision of the Termesphere took shape on the sphere, the pencil lines were traced with a thin line of acrylic paint. After these lines were completed, colors were added to the Termesphere, bringing nineteenth century Deadwood alive once again. At the top of the "Porthole to the Past" Termesphere is a collage of the faces of Deadwood including Annie Tallent, the first white woman in the Black Hills; Preacher Henry Smith, whose murder is still unsolved; and W.E. Adams, prominent businessman and founder of the Adams Museum. Native American images also adorn the top of the Termesphere. In the center, Deadwood's famous Wild Bill Hickock (aka James Butler Hickock) stands on Main Street in front of the Karcher Boots store, while Calamity Jane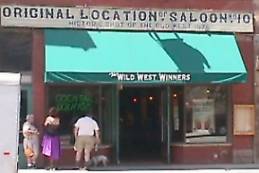 poses with her gun in front of Bloom's on the corner of Lee and Main Street. At the bottom of the termesphere is the Dead Man's hand, the cards allegedly held by Wild Bill when he was murdered by Jack McCall in 1876. The completed Termesphere took over six months to complete and is approximately three feet in diameter, weighing over twenty-five pounds. A transparent poly spray protects it from handling and the elements. It is hung from a ceiling motor so all sides are visible as it slowly rotates. This is certainly the focal point of the History Center, but merely the beginning of our journey back into the picturesque history of Deadwood. Our main reason for coming to Deadwood was to see the place where Wild Bill Hickock was shot and killed. It seemed that this was one of the reasons that most people come here. We found out that the place where Wild Bill was shot was the #10 Saloon, so we moseyed on down to #10 to see the infamous place. Well, we found out that not only could we visit the very saloon, but if we waited a few minutes we could see a reenactment of the shooting. The #10 saloon was actually in a different location when the shooting took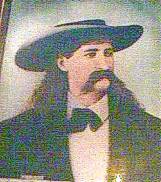 place but over time it had been moved to its present location. The saloon had ladies dressed in the old time barroom girls outfits for serving the many curious who had come to eat, drink and watch killing. Gee, kind of sounds like the Roman gladiators times, doesn't it? Bob and I found a table close to the stage area, ordered drinks and settled down to wait for the performance. A handsome man with a handle-bar mustache started out by picking various men from the audience and giving them costumes to wear, as they would appear with him in the card game scenario. It turns out this man was none other than Wild Bill himself. We learned that on the afternoon of August 2, 1876, Wild Bill entered #10 Saloon, ordered a gin and walked up to a poker game in progress. The men who were playing invited Bill to join them. Bill, being a cautious man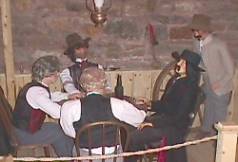 with a reputation as a "Prince of Pistoleers", asked the man who was sitting in his favorite chair (the one facing the door) to move so he could sit there, however, the man refused. Wild Bill thought about it for a few minutes, tried again to get the gent to move, but having no luck on this try either, decided he would sit in the only chair available, the one which would place his back to the door. A drifter name of Jack McCall (who Bill had bested at cards the previous night) strolled in and casually circled the table. As he walked behind Bill, he drew a rusty revolver, fired and shot Bill in the back of the head. Wild Bill fell forward onto the card table and died. Rumor has it that at the time he was holding black aces and eights, and a nine of diamonds. As a result to this day this particular combination of cards is called the "Dead Man's Hand." For me, history seems to have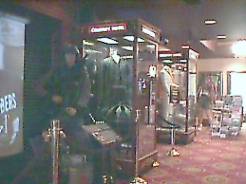 more of an impact when I can "view it for myself" so to speak. It was exciting, imagining myself sitting and watching an event which has become so much a part of history. As we walked out of #10 Saloon and back into the bright sunlight of the 21st century, I had to blink to pull myself out of the past and back into the present. For those of you who aren't lovers of the West's bloodthirsty past, there are numerous stores and gambling "parlors" that you can frequent. We were told that one of these establishments was owned by Kevin Costner of Hollywood fame. In the lobby you can see a number of original costumes and props used in various movies. There are also any number of excellent restaurants in which you can partake of your favorite food and beverage. In addition to Saloon #10 there are so many historic buildings that the entire city is listed as a National Historic Landmark. At the Visitors' Center they have a very nice walking tour that you can take of the town. They include not only places but events which occurred in the town since its inception in 1876. There were a number of famous people who came to Deadwood besides Wild Bill Hickock, which included Calamity Jane. Calamity Jane was a colorful figure in her own right. Calamity Jane was renowned for her excellent marksmanship, preference for men's clothing, and bawdy behavior. Also, included in this list although much milder in temperament was the Rev Henry W. Smith. Preacher Smith was the first Methodist minister to come to the Black Hills. Unfortunately,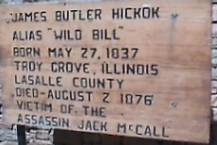 Smith was mysteriously murdered on Sunday August 20, 1876, while walking to Crook City to deliver a sermon. His killer or killers were never brought to justice. As a fitting end to our trip through Deadwood we decided to visit the Mt. Moriah Cemetery, also known as Boot Hill. Wild Bill Hickock and Calamity Jane are just a few of their notable "residents" there. Unfortunately, due to vandalism, Wild Bill's headstone was recently replaced by the City Fathers with a brand new shiny one. However, they did have a copy of the original, done on a wood plank. If you're not quite so adventurous you can take a bus tour which takes you around the city and culminates with a tour of the cemetery to see Wild Bill Hickock and Calamity Jane's graves. We had a great time stepping through Deadwood's "Portal to the Past" and imagining what it must have been like in the gold rush heydays. Be sure and allow yourself plenty of time to see this interesting town and its historic buildings.
Good Luck! Have Fun! and Stay Safe!
Laura