Deming Luna Mimbres Museum
&
Custom House
301 South Silver
Deming, New Mexico

February 10, 2001
As we travel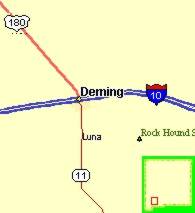 around the U.S. and Canada we have been fortunate enough to find a number of small town museums that contain any number of interesting items and/or collections. One such museum that we discovered, was the Deming Luna Mimbres Museum and Custom House. This is in Deming, New Mexico. The Museum is located in a building which looks deceptively small considering the amount of floor space it has in it. This red brick building was completed two months after the famous Pancho Villa Raid (March 9, 1916) at Columbus. It was originally built as an armory and later served both as a community social center and as a USO activity center. The Luna County Historical Society purchased the building in 1977 for use as a museum, when the

new armory was finished. They have any number of permanent exhibits along with some rotating exhibits. One of the exhibits that was very interesting to me was the Doll Room. Bob, of course, wasn't especially interested in dolls until we came to the one case. Inside was a doll that was brought back from Hiroshima by an American soldier who was there shortly after the bombing. When you think of the devastation that took place in Hiroshima after the U.S. dropped the Atomic bomb on the city it is truly amazing to think that anything could have survived, let alone a little girl's doll. But survive she did! In addition to the Doll Room they had a Military History Room. It was amazing to learn how many of New Mexico's brave men were marched to their death in the Bataan Death March. This room also featured a number of different uniforms which were worn by local New Mexicans over numerous years and services. Another room that had an interesting collection was the Gem and Mineral Room. While they predominantly featured gems and minerals found in and around New Mexico they also had minerals from all over the world.

When looking at the history of Deming it is necessary to look at the history of the Mimbres Indians. According to history, the Mimbres Indiians lived in villages along the Mimbres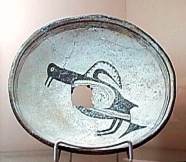 River about 1000 years ago. Although they were primitive in other respects, the pictures of daily life that they painted inside their pottery reflect their gifted creativity. One of the things that we noticed on many of the bowls which were recovered in archaeological digs was a hole in the bottom. We were diligently trying to come up with some "logical" explanation, such as; thin bottoms, careless workers, etc. when we finally found a plaque that explained that a bowl was buried with each person, and in order for their souls to be able to get out to get to heaven, they would break a hole in the bottom. In addition to the Mimbres pottery they also had an excellent collection of fine basketry by the New Mexican Pueblo Indians, plus many arts and crafts of the Western and Alaskan Indians. There were any number of other rooms including a Cowboy Exhibit,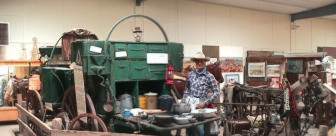 The Harvey House (a local restaurant), Antique Autos, and a Hispanic Room. This last room had a wealth of information on some of the Mexican forefathers of today's residents of Deming. Since Deming was once a part of Mexico it would stand to reason that many of their residents of today have ancestors that date back to the original Hispanic settlers. Also, if you're interested in quilts, be sure and visit their Quilt - Lace Room. They also have a collection of two thousand bells and hundreds of old whiskey bottles. Unfortunately the whiskey bottles were all empty. However, they portrayed just about every real and fictional character you can name. One of the rotating exhibits they had was the art gallery which featured a number of very famous, local artists.

After viewing the Museum you have to be sure go across the street to the old Customs House. It is a small adobe-walled room in the Seaman Fields' home which is believed to be the first Custom Office in Deming. They have a number of old records that can be examined. The Fields' Home is believed to be one of the oldest residences in Deming. The home portrays gracious living by early pioneer families. There is no admission charge to either the Museum or the Customs House, but contributions are greatly appreciated. Also, be sure that you stop by and visit their guest shop while you are there. The visit to the Deming Museum certainly proved to be a worthwhile way to spend a day. There were things that interested both of us and it provided a real insight into this part of the country as well as its peoples.
Good Luck! Have Fun! and Stay Safe!
Laura