The Dakota Dinosaur Museum
200 Museum Drive
Dickinson, North Dakota
June 16th, 1998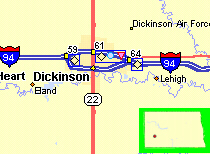 When we left home in June, our original intention was to travel across the northern border states on our way to the "Life on Wheels" convention in Moscow, Idaho. Following this path, we arrived in Dickinson, North Dakota. It was not by chance that we stopped here. Our oldest daughter, Vickie, and her husband, Eric, were here and we were way overdue for a family visit. Vickie and Eric had moved here several years ago when he accepted a professorship at Dickinson State University. It was such a pleasure seeing them and being taken around to all the attractions that we ended up staying a day longer than planned. One of the places we stopped was the Dakota Dinosaur Museum at 200 Museum Dr. Eric, who is now an Associate Professor of Biology, was a never ending source of information about the stones and fossil we saw there. The only ones without names were out front. I fondly identified a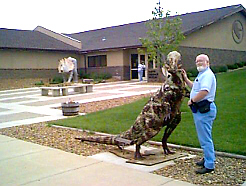 warm friendly one who wanted his head scratched as the first Rebarbasaurus, for the material it was made out of.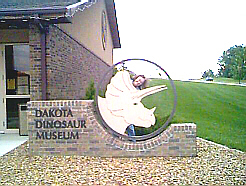 Laura, in the meantime was consulting a fellow creature that was with the entrance sign. As we entered, the foyer was filled with pamphlets on various local attractions, including a few on the museum. The layout was great. The center room had a large sand pit in the middle which displayed creatures and fossils in a very attractive way.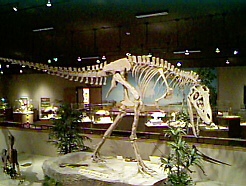 The center of the pit was dominated by the fossil structure of an Albertosaurus. The right side of the room housed an extensive mineral and gem collection including a room for fluorescent minerals. The left side contained display cases of smaller fossils along with other assorted objects of interest. Although there are several models, 91 percent of the exhibits are real, with 10 full scale dinosaurs.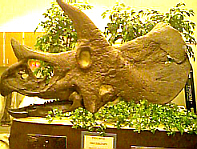 Located in a glassed fronted room at the rear of the sandpit is the pride and joy of the museum. Their own authentic Triceratops skull. It was found not too far from the museum. Eric explained how, after it was located, archeologists slowly removed the ground around it, adding a plaster substance as they went until the skull was completely encased. It was then safely removed without fear of breakage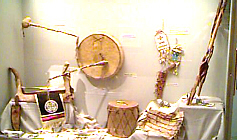 and brought to the museum where it has been in the state of restoration for sometime. It was just recently freed from all it's plaster. This one item makes the trip worth while. In an adjoining room, are the artifacts of people who grew up along the Yellowstone river in Billings, including a most interesting photograph display of the old cowboys taken by a local photographer. The Crow and Sioux Indians are represented in costume and tools, as is an assortment of unrelated antiques and collectibles. The museum is designed to peak the interest of curious minds of any age.

*** THE END ***