Dow Gardens
1018 W. Main St.
Midland, MI. 48640
1-800-362-4874
May 26, 2000
On May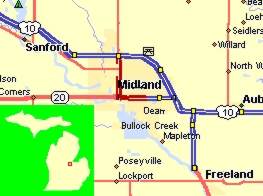 26, while staying in Mt. Pleasant, Michigan, we decided to drive the short distance to Midland where the Dow Gardens are located. Bob and I have visited several beautiful gardens while traveling around and always like to visit local gardens to compare them to what we have already seen. We found the Gardens easily and went into the visitors center. The admission was $3.00 for adults and $1.00 for children.
We found out from one of their brochures that the Gardens were initially developed by Dr. Herbert H. Dow, founder of the Dow Chemical Company, for the enjoyment of family, friends and associates. Since the first spade of earth was turned and the first tree planted in 1899, the Gardens have been enjoyed by thousands of visitors from around the world. As Dr. Dow, intended, the Gardens are constantly changing. Since 1973, major construction, renovation, introduction of new plant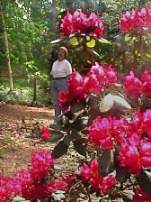 materials, and the formation of educational objectives have taken place within the Gardens. These changes are designed to provide the visitor with a broad avenue to explore the entire display area. Recent projects in the Gardens include the development of the Exploration Garden and renovation of the Rose Garden. The Rose Garden, a joint project between the Midland Garden Council and the Dow Gardens, was initiated to display the old, yet outstanding, varieties as well as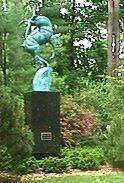 contemporary cultivars. The thirty-acre Exploration Garden, provides a setting for Trial Beds, Flood Plain Garden/Observation and research. The Garden is made up of two separate gardens; the Estate Garden and the Exploration Garden. Today the total area the Gardens covers 110 acres. This includes: rhododendrons, 20,000 tulips, 11,000 annual bedding plants, rose trails, formal rose gardens and some 1,200 different woody taxa growing in the garden. In order to foster love of gardening, the Gardens offer horticultural programs to the local gardeners. They also have a complementary work-study internship program. In this way they are able to train professionals in the maintenance of small and large area landscapes.
One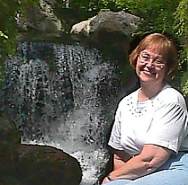 of the most unique differences I saw right away was the fact that not only did they allow you to step off the walkways, they encouraged you to do so. The day we went it wasn't very crowded, but I could only picture hundreds of inquisitive tourists; adults and children alike, wandering over the beautifully kept grass. I will have to say that it didn't look as though it had suffered from rough use. We started out on the path from the visitors center and came to an area called the "sensory area." The signs invited you to "smell, touch, hear" everything in that area. There was a father with 2 small boys who were doing just that. I once heard someone refer to the fact that small children try to Braille the world until we, as adults, tell them "don't touch that!". Then as they grow older their curiosity is curbed by the restrictions we as society place on them. Well, here in the Dow Gardens these two small boys were allowed free rein. The funny part was, that while we consider small children to be destructive, these boys were able to satisfy their curiosity but really didn't show any tendency to try to destroy what they saw. It was charming.


We then went into the conservatory. They had allowed birds to run and fly, at large, inside the conservatory. There were a couple of Chinese Quail walking around on the floor, and some canaries and other birds flying around. The flowers, of course, were gorgeous, but having the birds flying around really added something of a "nature-land" atmosphere to it all. The Quail were really cute. They were very small and would almost waddle around calling to each other. Finally we had to go back out into the real world. We headed for the Dow House. I found out from a caretaker that they have open house there the 3rd Friday of each month, but that you have to make arrangements ahead of time. The house was large, but not particularly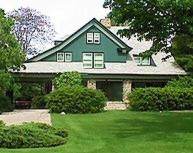 impressive.
After looking around the outside of the house, we went on our way. Bob has taken up a hobby of identifying trees of North America. We were able to add a couple of trees to our list in the gardens, however, many of the trees growing here were imported from other countries, so they really weren't able to get added to our collection. As we started heading back to the visitors center, I spotted a cat, I had seen at the house, with a chipmunk in his mouth. Well, being the nut I am about animals I quickly took chase. It must have been quite a sight. The cat with the chipmunk in his mouth being chased by a lady set on rescue. The cat went underneath a large pine tree.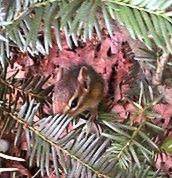 Bob kept telling me there was nothing I could do, and that the chipmunk was probably dead already. Well, I managed to fit under this huge pine tree with the cat giving me a rather strange look. I yelled at it and his mouth came open. With that the chipmunk rolled over, and started running up the nearest tree branch. Of course, the cat took chase as far up as he could go. With that I grabbed the cat and not-too-gently pitched him outside of the tree. When last seen, the little chipmunk was steadily climbing further up into the tree. I could have sworn I heard a little "thanx" as I walked away.
Since we had walked quite a distance we ambled our way up the path to the visitors center, with my poor husband shaking his head about his crazy wife wanting to save the world.
Anyway, the gardens were lovely and the trip and walk were well worth it. I believe most of the garden is wheelchair accessible. If you'd like to take a look at their website drop by: http://www.dowgardens.org.

Good Luck! Have Fun! and Stay Safe!
Laura