The Henry Flagler Mansion
Flagler Museum
Palm Beach, FL.
December 5th, 1999
As we travel through America, we often find ourselves visiting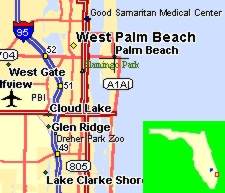 the great mansions which are sometimes called America's Castles. Most of these were erected during what is coined as "America's Gilded Age". This period existed between the end of the Civil War in 1865 and the crash of the stock market in 1929. During this time most of the things we take for granted today were invented, or discovered by the movers and shakers of that period. Automobiles, airplanes, phonographs, and telephones. It was the age of the railroads. Many of the great names in business, Vanderbilt, Rockefeller,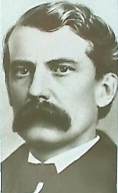 and Morgan saw their personal wealth and position mushroom to unbelievable proportions during this period. One name that can be added to the great of the greats, is Henry Flagler. Born in New York, as the son of a Presbyterian minister, Flagler would build his empire in record time. As the legal mind behind Standard Oil, which he and John D. Rockefeller created, Flagler found himself in a position to start a new adventure; the development of Florida as a tourist attraction where wealthy northern visitors could escape the rigors of the cold damp winters. By building railroads and hotels along the Atlantic coast from St. Augustine to Key West, Flagler opened up the State to a new, magnificent era of prosperity. His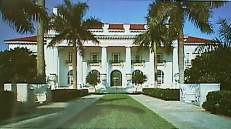 architectural style can be seen in most of the Atlantic coastal cities where his influence was evident in the development of hotels and other buildings. So it stood to reason that when it was time to present his new wife with a mansion as a wedding gift, the mansion would have to be the grandest and most lavish of masterpieces conceivable. Called "Whitehall", the 55 room extravaganza when built in 1912 stood out as the pinnacle of graciousness afforded to only the very rich. As we passed through the large bronze front doors,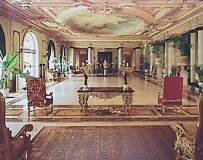 we were greeted by a spectacle not found in any other mansion in America. Marble Hall, as the main room is called, is a 44 hundred square foot reception hall designed to entertain. It was stunning! We just stood in one place and tried to take it all in but there was way to much for that. At one end was displayed a giant Christmas Tree, which was scheduled to be lit by a descendant of Flagler on the very day we had chosen to visit. At the other end was a deep green marble table designed especially for this room. Atop this table is a bust of Caesar Augustus. The ceiling depicts the "Crowning of Knowledge" . In an alcove next to the table there was an interesting collection of art acquired by the family.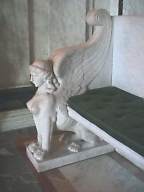 As is the case in many personal collections, there seemed to be no rhyme or reason to the assortment of vases, carvings and sculptures. Each exquisite unto itself yet unrelated to its surroundings. One particular bench caught my eye. Constructed of marble, the ends were sculptures of a winged creature, half woman and half lion. It sat along a wall and was serviceable. This theme of unrelated art was continued throughout the mansion, always with the best of taste and balance, something new around every corner. It reflected the interest and desire of the Titans of the Gilded Age to gather around them the beauty and elegant refinements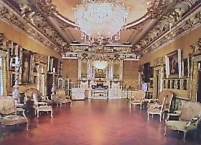 previously only possessed by the nobility of Europe. From the Grand Hall, we could go in various directions. The staircase was across from the entrance, however we chose to turn south and enter the music room. Here again Flagler had spared no expense in creating a magnificent decor filled with the most opulent furnishings. Music was important in the Gilded Age. It was an entertainment fundamental to the life style of the newly created moguls of industry and trade. In this room Mrs. Flagler hosted bridge parties, took afternoon tea, and held meetings of the Fortnightly Club, a group of women who gathered for programs of lectures