Renaissance Tower
Shoals Aquarium and Wilson Dam
Florence, AL
Jan 10, 1998
When traveling down the Natchez Trace Parkway,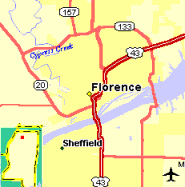 through its short trip in Alabama, you will be within easy driving distance to the City of Florence. Founded in 1814, the city boasts of its rich history and culture. The Renaissance Tower is Alabama's tallest tourist attraction. Built in 1991, the tower stands 26 stories high and required more than 3,500 cubic feet of concrete, 500 tones of steel, 175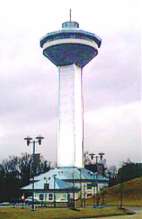 miles of wiring, and 550 feet of natural gas piping to build. The Tower is operated by the State of Alabama and is open year round, seven days a week except for Thanksgiving and Christmas Day. If you go to visit be sure you don't miss the spectacular view from the Renaissance Grille Restaurant which is located at the top of the Tower. The restaurant overlooks the scenic Tennessee River and historic Wilson Dam.
The Alabama Shoals Aquarium and Nature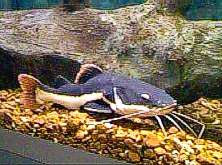 Center, located inside the Renaissance Towers, is a 4,000 foot exhibit that consists of 40 aquariums and terrariums housing over 400 species of fish and wildlife from North America and around the world.
Renaissance Tower is also home to the Tennessee Valley Authority Exhibit and Museum. The exhibit features an audio-visual history of TVA, the Tennessee River and Wilson Dam.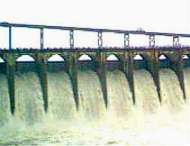 There is no admission charge and the tour lasts approximately 35 minutes.
Outside, the Dr. Whitey Hall Memorial Native Plant Garden is located on the north side of Renaissance Tower. The garden is named in honor of Dr. Hall, a local botanist and dedicated conservationist, and maintained by the Alabama Wildflower Society. The garden of more than 200 identified varieties of native plants and wildflowers includes a walking trail dotted with benches, sitting areas and a small amphitheater.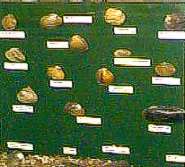 The Wilson Dam straddles the Tennessee River at the foot of a 37 mile stretch of craggy rapids known as the Muscle Shoals. Completed in 1924, Wilson Dam is built in a Neoclassical style and is operated by the Tennessee Valley Authority. The Muscle Shoals of Tennessee, now mostly inundated by Wilson Dam, have been famous for the variety of muscles living there. Mr. Ordman once noted that "There is no other place upon the whole wild world which could be compared with this one in its respect." There were some 60 plus species adorning the area. Many are now extinct.
*** THE END ***