National Underground Railroad
Freedom Center
50 East Freedom Way
Cincinnati, OH 45202
Phone:
877-648-4838
June 15, 2006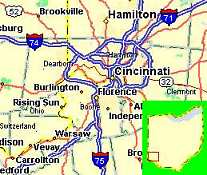 I have found that people often tend to ignore sightseeing in their home area. I was born and raised in Cincinnati, OH, and we return there each year to see Doctors, and visit family and friends. This year when we returned, I learned that there was a museum at riverfront. I knew that Cincinnati was an important hub in the Underground Railroad system. Many houses in Cincinnati still have underground rooms that connect with tunnels and were used to help runaway slaves evade the slave hunters. While we were home this year, we decided to check out this new museum.
Before we do a story on a place, we make contact before we go to the location. In this case we were fortunate to get in touch with Mr. Paul Bernish, Chief Communications Officer. Mr. Bernish spent considerable time with us explaining how the Center came to be. He explained that after ten years of planning and fundraising, the $110 million Freedom Center opened to the public on August 3, 2004. Their website http://www.freedomcenter.org has concise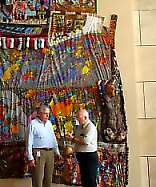 information on the location and parking area nearby. I really was unsure as to what we would see and how it would be presented. Since we have traveled so extensively throughout the U.S., I guess I wondered if a museum in "my home town" could measure up to some of the museums we have seen. Well, I needn't have worried. Just approaching the outside of the museum, what I saw was certainly imposing. Upon entering, I found exhibits that presented the story of the slaves and the people who risked their own freedom and property to help them escape. Many heroic men and women joined forces with others in a vast network that helped runaway slaves secure freedom. Three groups of people were most active in the Underground Railroad efforts in southern Ohio. They were the Presbyterians, the Quakers, and Free People of Color. These brave people risked the loss of property, money and imprisonment if caught hiding or helping fugitives. Some people were caught by Pro-Slavery forces and beaten because of their commitment to helping runaways to freedom. Since Kentucky was a slave state and was just across the Ohio River from Cincinnati, the escaping slaves had to get across the Ohio River in order get to freedom. Even after they managed to cross the river they still had to have help and use caution because the slave hunters would risk coming into Ohio in order to capture the runaway slaves and collect the bounty on their heads. One of the most well know stories about a runaway slaves plight was "Uncle Tom's Cabin" written by Harriet Beecher Stowe. This book brought the plight of the runaway slave's to the public's attention.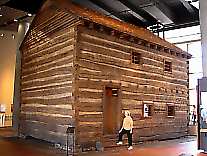 A focal point of the museum is a 21 X 30 foot, two-story log Slave Pen that was built in 1830 and used to house slaves being shipped to auction. The structure was actually moved from a farm in Mason County, KY, and now dominates the second-floor atrium where visitors encounter it again, and again while visiting the other exhibits. It can also be seen through the Center's large windows from the downtown street outside. An original feature of the Slave Pen is a shackle ring in the second floor joist, used to secure male slaves. I learned that the pen was originally owned by Captain John Anderson, a Revolutionary War soldier. Slaves waiting to be transported from Dover, KY, to slave markets in Natchez, MS, and New Orleans, LA, were imprisoned there for a few days or several months, waiting for favorable market conditions and higher selling prices. It has eight small windows, the original stone floor, a large chimney and fireplace, and a row of wrought iron rings through which a central chain ran, tethering men on either side of the chain. Males slaves were held on the second floor, while women remained on the first floor and used the fireplace for cooking. Walking into this structure had a powerful effect, not only on me, but on most of the people I saw entering the Pen on the day I was there. Being inside an actual structure gave me an insight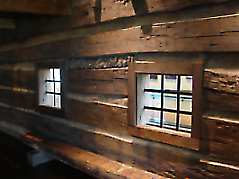 into some of the dehumanization that the slaves would have had to suffer. There was obviously no privacy available for the people held here. They were treated as though they were mindless cattle and not human beings.
Our next stop was the "Suite for Freedom" Theater where they presented three animated films that addressed the fragile nature of freedom throughout human history, particularly as related to the Underground Railroad and the institution of slavery in the United States.
Then we moved on to the "Escape! Freedom Seekers" presentation and interactive display about the Underground Railroad where school groups and families with young children are presented with choices on an imaginary escape attempt. The gallery features information about figures like abolitionist William Lloyd Garrison, Underground Railroad conductor Harriet Tubman and orator Frederick Douglass.
"The Struggle Continues, " is an exhibit depicting the ongoing challenges confronted by African-Americans since the end of slavery, ongoing struggles for freedom in today's world, and ways that the Underground Railroad has inspired groups in India, Poland, and South Africa.
The Museum also features The John Park Library which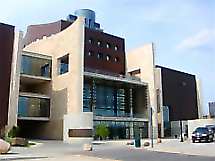 houses a collection of multimedia materials about the Underground Railroad and freedom-related issues. In addition, they have a Family Search Center where visitors can investigate their own roots.
They constantly keep the museum fresh and interesting by introducing exhibits on loan from private parties and other museums.
I was impressed not only with the museum itself, but with perseverance of the human spirit that will not long live with tyranny. And with the bravery of the people who were willing to risk their own lives to assist these people's fight.
Good Luck! Have Fun! and Stay Safe!
Laura