Frontier Texas! Museum
625 North First St.
Abilene, TX 79601
April 15, 2005

While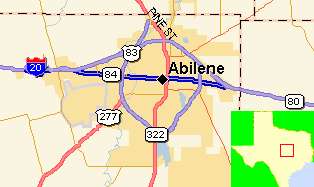 we were staying in Abilene we were told about their great Frontier Texas Museum. Well, let me tell you we got a very pleasant surprise. When looking at the outside it didn't look much different from a dozen other museums we have seen. But the secret lay inside the building. Whoever designed this museum did a spectacular job. The Museum is located in downtown Abilene, it is a 14,000 square foot facility built on 6.4 acres. The purpose of the Museum is to allow visitors to relive the Old West with the help of state-of-the-art technology. It attempts to bring the frontier to life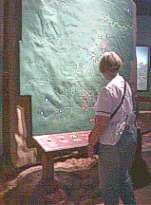 and let its visitors meet people who played out their lives on the Texas frontier. Their cutting-edge technology put us right in the middle of attacks by Indians and wolves, stampeding buffalo, a card game shootout and a prairie thunderstorm, even a lovely spring evening filled with fireflies.
In the same way that Texas' early frontier forts established a protective gateway at the edge of western civilization, the Museum establishes itself as a welcoming gateway at the limits of downtown Abilene. In addition to providing an audio-visual and interactive experience, Frontier Texas serves as a Visitors' Center for the City and the "Big Country" region of the Texas Forts Trail, a 700-mile heritage tourism loop which starts and ends in Abilene.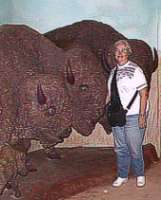 There were any number of interactive things to do for young and old alike. Now you have to understand that we spare no expense and take many risks to get these stories. One of these risks is standing next to huge buffalo. I could feel their hot breath on my shoulder as I instructed them to "smile". Only thing I don't understand is why I'm always the one in harms way? Bob said its because he takes better pictures. Oh yeah! Many museums put these huge beasts behind barriers but that is one of the differences in this museum. You are right there and can let your imagination run wild.
One section dealt with the Comanche Indians who dominated the Texas frontier for almost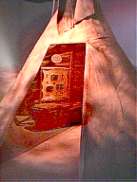 200 years. The occupation was so complete that the land became known as Comancheria. Before 1700, the Comanche were essentially elements of the Shoshone Tribe in the mountains of Wyoming. After acquiring horses brought to America by the Spaniards, the Comanche swept down upon the Southern Plains, driving out the Apaches and other tribes. By the early 1800s, the Comanche were a powerful people with a population of about 20,000. Exceptional horsemen, they traveled in bands, following the buffalo herds and setting up tipi camps. Fiercely proud, they fought for their honor. Only after a long and bloody struggle were they forced onto the reservation. In 1875, weakened by warfare, disease and hunger, and fewer than 1,600 in number, the Comanche succumbed to the will of the U.S. Government.
Another interesting character was Cynthia Ann Parker (1825-1870). Cynthia's life story was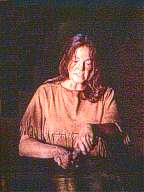 one you could only imagine in western movies today. Cynthia and her family moved from Illinois to Central Texas when she was a young girl. She lived at Fort Parker on the headwaters of the Navasota River until 1836 when Indians took her captive. For almost 25 years she lived with the Comanche Indians and embraced Indian life. She even married Chief Peta Noona and had two sons and a daughter with him. In 1880, she was "rescued" when Texas Rangers raided her village. However, Cynthia never was able to reconcile herself to living in white society. Grief stricken, she died in 1870. The presentation was so powerful because you heard the story from the figure in a lady's voice.
After going through the museum it gave me a better understanding of the strength it took for the early settlers of Texas to survive day-to-day living. It also gave me an appreciation of why Texans are so proud of their heritage and their state.
If you get anywhere near Abilene be sure and set aside a day to visit this great museum. In case you want to check on hours, fees, etc., check out their website at: http://www.frontiertexas.com.