The Guest House Museum
Mendocino Coast Historical Society
Ft. Bragg, CA.
October 20, 2002
As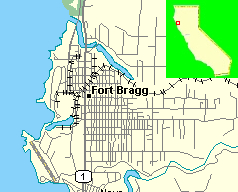 we traveled south from Arcata, California, on SR 101 I saw a small town right on the ocean called Ft. Bragg on our map. It looked like an area that wasn't heavily traveled and I was definitely right. However, getting to and from Ft. Bragg proved to be a challenge. We had to travel down a twisting, winding two-lane highway with turns so sharp that we found our fifth wheel tracking into the oncoming lane on several occasions. Fortunately for us and other people on the road we seldom saw an oncoming car. After we got into the town we found a charming little trailer park that was tucked into a little bay right across from the ocean. After settling in we started looking around and I saw a really lovely old Victorian Mansion in the center of town. There was a sign indicating it was The Guest House Museum. It was sponsored by the Mendocino Coast Historical Society. The Guest House Museum offers visitors an overview of the history of the Mendocino Coast. The three-story Victorian structure that houses the Museum is itself a striking remnant of that history. Built in 1892, the house occupies what prior to the Civil War had been the site of the Fort Bragg army post hospital. The post was established in 1857 "for the convenience and protection of the Indians."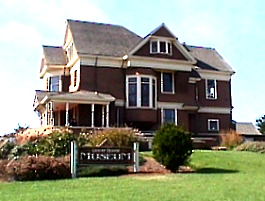 It was the California Gold Rush that first stimulated settlement of the Mendocino Coast--not for gold, as there was none here, but for the area's majestic redwood forests, which would provide the lumber to build San Francisco and many other Gold Rush-era communities. (San Francisco would be rebuilt with north coast lumber following the great earthquake of 1906, which damaged or destroyed cities and towns from Monterey to Eureka, including Fort Bragg.)
Much of the early history was shaped by ambitious lumbermen from New England and the Upper Midwest who were drawn to the Mendocino Coast by the promise of new wealth. Among them was Charles Russell Johnson (1859-1940), known familiarly as "CR," who first arrived on the Coast as a young man in 1882. Within a decade he had become a prominent mill owner, Fort Bragg's founding mayor (1889), and an exemplar of Victorian-era lumber barons who influenced virtually every aspect of daily life in their communities.
Johnson was the founder of the Fort Bragg Redwood Company in 1885 which became the Union Lumber Company in 1891 through a merger of his own company with the neighboring Noyo River enterprise of W.P. Plummer and C.L. White.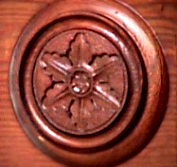 He had successfully established himself on the Mendocino Coast with the financial backing of his father and two of his father's Michigan business associates. With the elder Johnson as Union Lumber's nominal president, "CR" expanded logging and milling operations into a veritable family empire that soon dominated life in Fort Bragg and its environs.
"C.R." Johnson was understandably proud of his many exploits and like other successful entrepreneurs of his day, he sought to exhibit them conspicuously. This impressive Victorian home which dominates downtown Fort Bragg reflects that pride. It preserves something of Johnson's personality and stands as a public reminder of his position in the community. Constructed as a guest house for friends, customers and corporate associates, it also provided lodging for "CR" whenever company business or vacations brought him to town from the Union Lumbers Company's San Francisco office.
The Guest House served as a show place for Union Lumber wood products. It was constructed from the finest old-growth redwood and Douglas fir and contained 67,000 board feet of lumber. Visitors will be struck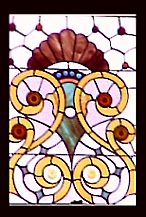 by the ornate woodwork, notably the decorative moldings, door and window trim, and the spool, spindle banisters of the staircase. Also noteworthy are the stained glass windows above the stairway's first landing. Impressive too, is the interior spaciousness of the house created by its twelve feet high ceilings - aesthetically pleasing by Victorian standards but not very practical for housekeeping or heating.
Originally the Guest House contained seven fireplaces, but the 1906 earthquake and installation of a more modern heating system has reduced that number to three. When first completed, all bedrooms in the house had hot and cold running water and every room except the kitchen had electric lights. There was a discreetly concealed wet bar on the first floor and a large billiard room on the third floor where male guests could smoke and schmooze in private.
Our trip through the Museum and into Mendocino Coast's colorful past was really great. Fortunately, our trip out of Ft. Bragg to Napa was a lot easier than our trip in.
Good Luck! Have Fun! and Stay Safe!
Laura