Ft. Worth
Stockyards National Historic District
Ft. Worth, Texas
March 15, 2000
As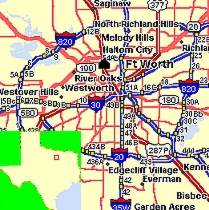 we travel we visit the local sights to get stories, take pictures, etc. Consequently, the stories are usually posted several weeks after we visited the area. Such was the case with Ft. Worth, Texas. We visited Ft. Worth on March 15th and less than 10 days later we found out that Ft. Worth had been hit with no less than 2 tornadoes and much of the area we had seen had been devastated. It is in times like these that I sit down and thank the Good Lord for keeping us safe in our travels. If we had simply been a little later or lingered a little longer we could have been in that area when the tornadoes struck. I guess that's why our traveling is so important to us. No one of us knows what tomorrow could bring, but for us, we're living a dream we've had for a long time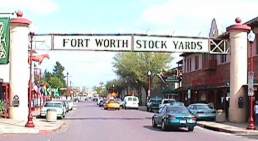 and no one can ever take that away. Well, enough philosophizing and on with my story. While looking around at what Ft. Worth had to offer I saw a brochure featuring the Stockyards National Historic District. Incidentally if you haven't already guessed, besides being an "assistant" author, I am also the Tour Director. What that means, is that I have to find all the stuff that we do, while the "author" sits around and goes "uh-huh" or "uh-uh" to my suggestions. I'm not sure how or when this occurred, but that's what it has come to. Sorry, back to the story.


We drove from our RV park "The Cowtown RV Park" located in Aledo just west of Ft. Worth, into the city and located the stockyards district. It was a really neat area. Of course, there were the usual shops and boutiques, but they actually had a stock pen located in the rear of the buildings, and they had a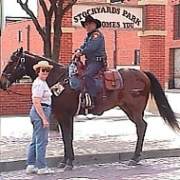 roundup complete with handsome cowboys twice a day. Even the local cops got into the act with their mounted patrol. Here you see me with Officer Jerry Garcia mounted on his horse, Tom. The Stockyards district is another example of what cities all over America are doing. Ft. Worth took an area that was falling into disrepair because it didn't have the extensive use it once had, and turned it into not only a historic memory of their glorious past, but a fine tourist attraction as well. We have seen this occurring time and time again with cities all over the United States.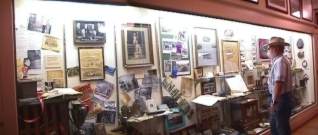 People with drive and imagination, not only preserving the past, but finding ways to interest outsiders in this past.
Some of the things that were featured in the stockyards district were the Livestock Exchange Building, where deals and fortunes were made daily. Inside the Livestock Exchange Building is a very nice museum containing a lot of
memorabilia from Ft. Worth's past. Then there's the Stockyards Station, which is now filled with specialty shops, restaurants and Western rides, which fills acres of historic livestock barns. They also have a train which operates out of this station. Just a few blocks away is "Billy Bob's Texas" which is billed as the world's largest Western dance hall. Unfortunately, since we were there during the day, we only got to see the inside of the dance hall, but didn't get to do any dancing. (We do a mean two-step). We stopped in one of the local restaurants for a bite and to wait for the "big cattle drive".
The cattle drive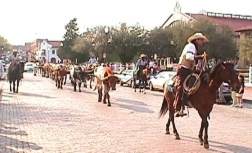 was fun. I'm sure that those poor cattle have gone up and down that street so often that they could probably have done it on their own blindfolded, but it was still great. I could just picture these cowboys on their horses, having ridden the dusty trails for weeks, even months, finally bringing their cattle into the stockyards for sale. All we needed was the dust.
In addition to the wranglers we saw another man with a rather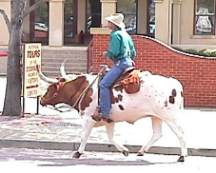 odd means of transportation. Actually what he was doing was allowing people to have their pictures taken with his steer. We just happened to catch him riding his "prop" home for lunch.
We did not get into the Historic Downtown and now in light of the fact that so much of it was destroyed by the tornadoes I really regret that. But, unfortunately when we go into an area there is just so much time and so much energy and we did want to go to Dallas the next day. Which we did, but that is another story.
I would highly recommend the Stockyards area if you get a chance to stop by Ft. Worth.