Fulltiming It!
Leaving Cincinnati, Ohio
Going: Everywhere
July 14th, 1999 to ??
When Bob last retired as a police officer on January 1, 1997, all I heard from him was "When are you going to retire?". Well,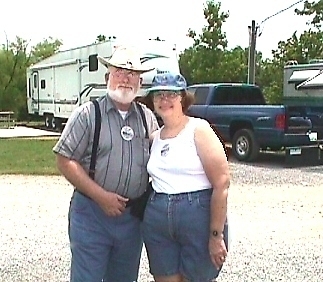 we sat down and looked at our financial situation and decided that I could retire January 1, 1998. After my retirement we bought a fifth-wheel, having done our homework on what type of unit we wanted. We had rented a Class C Motor home and a pop-up in the past. We also had a Chevy camper van when our kids were little. We decided we definitely wanted more room. So we settled on a used fifth wheel that we found, that seemed to fit our needs perfectly. We headed south 2 days after my retirement and were out until March seeing a good part of the Southern part of the U.S. This trip ended us up in Mission Texas. Bob, decided that we need to be home to pay homage to our Federal Government (file our income taxes). So on the fateful day, March 13 (FRIDAY 13th), 1998, we started out from Mission Texas to go northwards towards home. Well, we didn't get very far. Fortunately neither one of us were hurt. We managed to get our things back
home and rested and reflected for awhile. Was this lifestyle really what we wanted? Could we start over? My answer was a definite YES. But, I had a little doing to convince Bob that we could do it. I gave him some healing time and started dropping subtle hints. Pretty soon we were out looking at fifth-wheels again, because by now we had definitely decided that this was the way we wanted to go. Meanwhile, our poor truck (affectionately name BABE after Paul Bunyan's big blue ox) was sitting in Corpus Christi, Texas, being pounded and stretched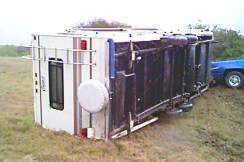 back into shape. We found a fifth wheel that was very similar to our first one. Soon, we were off to Corpus Christi to pick up Babe, hitch him to the new trailer and start off once again. By this time it was June and we started Westward across the U.S. You can see our many adventures on our web page. When we got back home in November we had made many new friends across the U.S. Some of them were RVers who were living the fulltime lifestyle and some of them RVers who only wished they could fulltime. We realized from our costs between June and November that we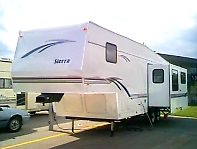 couldn't maintain 2 fulltime residences (the house and the trailer), so we had to make a decision if fulltiming was what we really wanted to do. By February, after having gone through yet another nasty winter in Cincinnati I was definitely ready to make sure my nose was always headed where it was warm. Also, I had some real inspiration from 3 couples we met in Idaho that are fulltimers: Ruth & Dick Kiessel, Alice & Sam Penny, and Kay & Tom Seliskar.
So, we put our house on the market. We had a 5 bedroom house and it wasn't easy to sell a house
that large. During this time, Bob fell and broke his ankle, had to have surgery, and was in convalesce for 8 long, arduous weeks, which he affectionately referred to as "pampered bondage." His pampering, my bondage. During all this, we had a favorite waitress at a local restaurant (Mary Lou) who kept telling us "when it's the right time it will happen." Well, sure enough after Bob was able to move around halfway decently we got an offer (June 1999). There was this to be fixed and that, but after some negotiations we finally got everything straightened out and set the closing date for July 7th. We called in our 6 kids and told them to take whatever they wanted. Then came the horrendous job of deciding what we wanted to take, what we wanted to put into storage, and what we needed to get rid of. Bob wasn't real crazy about putting anything into storage, but I insisted that some of the furniture I had longer than he had been around and I wasn't going to get rid of it. Besides a couple of years down the road I want to get a nice, small house, somewhere near the ocean where it is warm.
One of the things we heard time and time again from people who would like to fulltime but don't is; the Mrs. can't give up the house, or the kids, or the grandkids, or the stuff. So far I think I've done pretty well. I've never lived anywhere but Cincinnati all my life and it is really scary for me to give up everything and go off in a small trailer with my husband of 19 years. One of the things Bob reminded me the other night is, that mostly my security is within myself. And that is very true. I have always been a person who could pick up all the pieces and start over, no matter how bad things were. My motto was fashioned after "the unsinkable Molly Brown". "I ain't down til I say I'm down, and I ain't never gonna say I'm down." I'm sure that there will come a time when we are both ready to settle down, but I really don't see it happening anytime soon, as long as there is a town or a person in that town we haven't met yet.
Well, WE'VE DONE IT! We left Cincinnati Ohio Tuesday afternoon after having stored, given away, or thrown away the majority of our possessions. We were still giving things away as we were getting ready to leave. After having done all the packing, moving, etc., we were both exhausted and drove south on I-75 only as far Lexington, Kentucky. As we sit in Kentucky with our fire, enjoying the night and the company of our neighbors, I realize how right this lifestyle is for us. It is true freedom to be able to decide what direction you want to travel the day before or the day you get ready to leave. If you are able to give up your material possessions in exchange for seeing the wonders of other parts of this land, by all means join us on the road.
If you read this and see us tooling down the road, or pulling into your RV park, please be sure and stop us and say "Hi", we love company.
* * * THE END * * *