Gene Autry Oklahoma Museum
P.O. Box 67
Gene Autry, OK 73436
August 30, 2004
When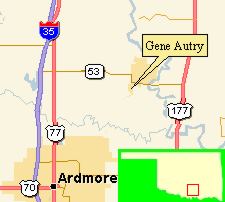 we traveled from Texas to Oklahoma we stopped in a lovely state park called Lake Murray State Park. It was a very large lake with nine campgrounds. We happened to be fortunate enough to get a site right next to the lake. While staying here I noticed that there was a nearby town called Gene Autry. I read the story on the internet of how the town came to have this name. The town was originally called Berwyn. In 1940 Gene Autry bought 1200 acres just west of town to build a ranch and headquarters for "the biggest rodeo road show ever organized." A Berwyn resident named Cecil Crosby came up with the idea of renaming the town after its famous resident. In November of 1941 the Carter County Commission passed a resolution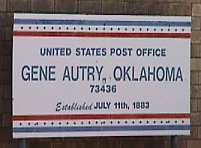 changing Berwyn's name to Gene Autry, Oklahoma. The official change took place on Oklahoma's 34th birthday, November 16. People across Oklahoma heard a radio network broadcast the festivities, and 35,000 showed up in person. Among them were Gene Autry and his "Melody Ranch" crew. They did their CBS radio show from a flatcar on the railroad. When this change all took place Gene Autry had about ten stores, two lumber yards, a hotel, a newspaper, an oil mill, two cotton gins, a grain elevator, an electric plant, two lawyers, two doctors, an undertaker, and a population over 600. As we visited Gene Autry, OK, the museum which shared a building with the post office seemed to be their single claim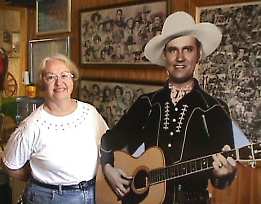 to fame. We drove through the town and saw one general store, two churches, and a grain mill. On the outskirts of town there was a distribution center for Dollar Store. We learned that the building that the museum is located in is the old Gene Autry School which was closed in 1989. The citizens, wanting to preserve the buildings, revived an idea which had been floating around for years, a museum. The Gene Autry Oklahoma Museum opened its doors that summer. Of course I couldn't resist having my picture taken with a full-sized cutout of Gene Autry. The museum is dedicated to the Singing Cowboys of the movies, and from a rather modest beginning, it has acquired a formidable collection of Singing Cowboy memorabilia as well as artifacts from the town's past. Originally open only on weekends, the museum is now open Monday through Saturday. Still relying on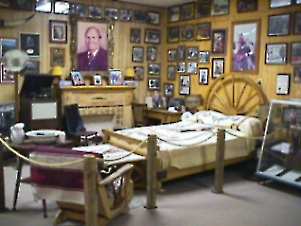 donations for support, the Gene Autry Oklahoma Museum has members in most states and many countries. I don't know about you, but for Bob and I it was a real nostalgia trip into our past. We went past poster after poster showing, not only, Gene Autry's old movies, but also the movies of many of the other singing cowboys. I loved looking at the toys (bikes, lunchboxes, and gunbelts). I can remember seeing a number of the movies shown in the posters at the theaters.
While we were there we encountered another couple taking a walk down nostalgia lane. I found out that it was their 41st wedding anniversary. They were pointing out various movies they had seen and records that they had at home. It was interesting to watch them as they would "ooh and ahh" over this poster or that and remembering where they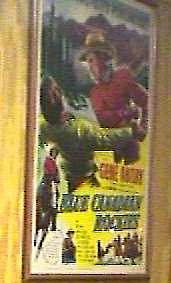 were when they had seen that particular movie. They kept trying to find a poster of "the Cisco Kid" which was the lady's favorite singing cowboy. They finally asked the volunteer at the front desk and were shown a poster of several singing cowboys which included the Cisco Kid. Unfortunately, they didn't have any copies of the poster for sale.
As we looked at the various displays I realized what different role models kids had in those days. Everyone had to have a "Gene Autry" (or other famous cowboy) lunchbox, bicycle and, of course, the obligatory pair of pearl-handled pistols. Now you could say that this was encouraging violence but did you ever watch the old cowboy movies closely? The "good cowboy" never killed anyone, he just shot them off their horse so they couldn't do evil things in the world. And then he kissed his horse, shook hands with the beautiful co-star and rode off into the sunset. Was it a gentler world? I think so, but then I am of that generation.
Unfortunately changing the name of the town to Gene Autry didn't give it the long lasting fame that the originators had hoped, but it certainly is worth the time to stop by and see it if you remember the old western movies of a by-gone era.

Good Luck! Have Fun! and Stay Safe!
Laura