The History of Gillette Castle
State Park
67 River Rd.
East Haddam, CT 06423
(860) 526-2336
August 25, 2007

While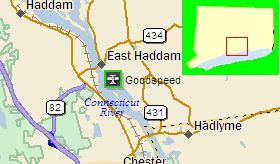 staying in Connecticut we were looking around for a place to visit. Since we have visited other castles in the U.S. the Gillette Castle went right to the top of our list. I have to tell you that this is a jewel nestled in the hills of Connecticut overlooking the Connecticut River. This beautiful castle was built in 1919 by William Gillette who was famous in his time as "the man who portrayed Sherlock Holmes".

Most people, when they think of Sherlock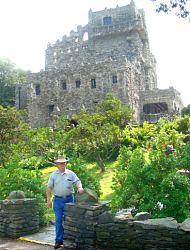 Homes, picture Basil Rathbone as the famous sleuth. However Rathbone actually owed much of his success to an actor from Hartford, Connecticut. This was William Gillette, who was one of the most popular American actors of the early twentieth century. William Gillette was born to parents who were both prominent Hartford citizens. They had dreams for their son which certainly didn't include him being an actor. But William was determined, and actually succeeded far beyond anything his parents thought him capable. He became not only an actor but a Director and Playwright as well. He performed on the stage with such greats as Ethel Barrymore and earned as much as $300,000 a year. A phenomenal amount in that time.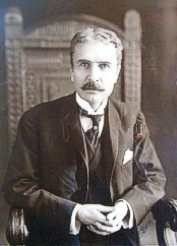 Although he acted out Arthur Conan Doyle's books, it was William who added details to the role that was picked up by Hollywood when they created Basil Rathbone's role for the movies. It was Gillette who added the deerstalker cap, the Inverness cape, and he actually wrote the line, "Elementary, my dear Watson".
In 1882 Gillette married Helen Nichols of Detroit. They were blissfully happy. She died in 1888 from peritonitis, caused by a ruptured appendix. He was terribly grief-stricken for years and, at this vulnerable moment, was struck down with tuberculosis. He did not act again for six years, and he never
remarried.

After the Baldwin Hotel blaze in San Francisco, in November 1898, two original scripts, Conan Doyle's and Gillette's adaptation, were partially destroyed. Gillette wrote the piece again, in a month by memory and/or with notes he had kept. Traveling in 1899 to present it to Conan Doyle, they met in the Ulster's train station (in England). Gillette showed up disguised as Sherlock Holmes. With the character's posing, he approached slowly and said: "You're the writer, no doubt about it." Conan Doyle approved the script and the two became life-long friends.
In 1913, while sailing up the Connecticut River in his houseboat, Aunt Polly, Gillette spotted a hill, part of the Seven Sisters, over a ferry's pier in Hadlyme. He docked, disembarked and climbed up. He was so amazed by the view that he purchased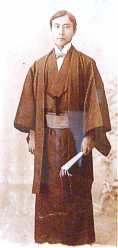 115 acres of land, the next month. He decided to build up a castle at this location based on the Norman fortress Robert the Devil. While on the boat a gentleman from Japan, Yukitaka Osaki, was hired as a Cabin Boy. Gillette came to trust Osaki so much that he made him his valet. When Gillette moved into the castle Osaki came with him and lived in a cottage at the bottom of the hill near the ferry slip. Osaki was a familiar sight to residents of the village as he daily rode his donkey to the local post office. A portion of every evening found Gillette and Osaki in consultation regarding the schedule for the following day. Osaki, like Gillette, was in a state of semi-retirement during these years; but he managed to instill in the junior servants an almost awe-like respect for his seniority. This unique collaboration lasted over forty years until Gillette's death in 1937. In his will, Gillette provided lifetime use of the cottage and surrounding gardens for Osaki. The faithful servant outlived William Gillette by five years. He is interred in the Hadlyme cemetery.
The design of the castle and its grounds features numerous innovative designs, and the entire castle was designed, to the smallest details, by Gillette himself, including the installation of a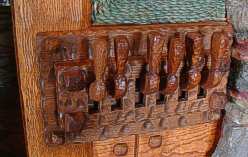 fountain in the conservatory, where his pet frogs, Mike and Lena, lived the good life. It is interesting in going through the castle that you can see the effects of years of living out of suitcases (when he was acting), and living on board the Aunt Polly. The rooms are very compact and have a number of built in furniture. The design is something that is common to those of us who live in RV's as well.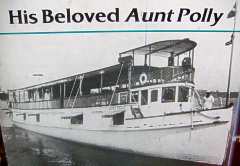 During the five years of construction, Gillette lived aboard the Aunt Polly or at a home he had purchased in Greenport, Long Island. The material for the castle was carried up by an aerial-trolley designed by him. The castle's walls tapered from 5 feet thick at the base to 3 feet at the upper levels. The castle possessed 24 rooms and 47 doors (no two of which are alike), with hand-carved puzzle locks, which were also devised by Gillette. He also had a little fun with the bar, a four foot high wooden box, with a lid that flips open, if you know the combination. The main salon measured 30 by 50 feet and was 19 feet in height, featuring a complex mirrored system of surveillance of the castle's public rooms from his bedroom. He explained this as a means "to make great entrances in the opportune moment.
The mansion was finished in 1919, at a cost of 1 million US dollars. Gillette called it Seven Sisters. He included on the grounds a pair of narrow-gauge engines that ran on three miles of track throughout the property, crossing several bridges and going through one tunnel. Gillette also enjoyed strolls on his property in company of his guests, who included Mr. & Mrs. Albert Einstein, former U.S. President Calvin Coolidge, and former Mayor of Tokyo Yukio Ozaki. He also invited the public at large to climb aboard and ride the rails. The one and only talkie he ever made was a newsreel from the late twenties, featuring Gillette at the throttle of one of his beloved engines.
Today, the trains are no longer in service, but there are carriage rides available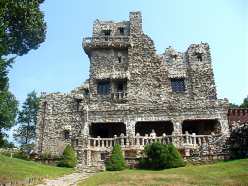 throughout the park, where you can still see the old railroad's wooden trestles, bridges, and depots, one of which now serves as the gift shop. Another nice way to explore the park is along the 10 miles of original footpaths which wind their way through stately groves of hemlock, white oak, and red maple.
Gillette died on April 29, 1937, in Hartford, due to a pulmonary hemorrhage. He was buried in the Hooker family cemetery, at Farmington, Hartford County, Connecticut, next to his wife. Unfortunately Gillette left no heirs when he died in 1937, at the age of 83, but he did make clear in his will that he'd rather see his home sold at a loss than end up in the hands of "some blithering saphead" who had no appreciation for the place. The state of Connecticut ended up buying the property in 1943 and has maintained it as a public park ever since. Whether or not state officials are just the sort of sapheads Gillette was referring to is, of course, debatable. While the castle and its grounds have suffered from some neglect over the years, the state did recently slate $3 million dollars towards a major restoration, an encore which Gillette himself would probably applaud.