The Grand Canyon
Grand Canyon, AZ
April 15, 2001
How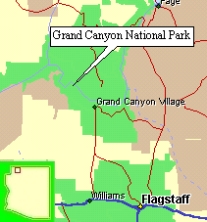 could anyone get anywhere near the Grand Canyon and not have a look-see? We were no different from the rest of the masses who had to see "the big hole in the ground". Even before you get there you have decisions to be made. One of the big decisions for RVers is where to stay? We had several excellent suggestions from friends that we should stay in one of the Grand Canyon Campgrounds. One of the drawbacks to this is, you have to make reservations pretty far in advance. They have several campgrounds, some with full hookups and some with just minimum. The advantage to staying there is that you get to go to the Canyon as often as you wish, with no additional cost, since you are already inside the park. Another option, which is the one we chose, was to stay somewhere nearby and either drive in or take the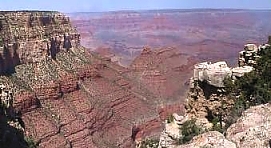 historic Grand Canyon train in. We decided to stay in a campground in nearby Williams Arizona who's one claim to fame is the historic Grand Canyon Train. (Click on the hyper-link to see Bob's story about the train ride). Anyway we went down to the train station and got our tickets for the next day. Early in the morning we boarded our train and proceeded to the Grand Canyon. I can't begin to tell you how awesome the Canyon looks as you approach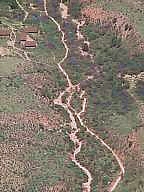 it. No amount of pictures or videos or movies I have seen can ever begin to tell the story of this beautiful area. Unfortunately since we had taken the train up, our time was limited. So we contented ourselves with walking only a small portion of the rim and seeing the Canyon from just one angle. While the train trip up was really wonderful I think I would really recommend staying in the park so you could go to different parts of the rim for viewing. There is also a mule ride you can take, which takes you down to the bottom of the Canyon with an overnight stay to rest your ah...... mule, and then the trip back up the next day. I believe that there are also hiking trails which allow you to go down at least partway into the Canyon. I'm not sure that I would be up to doing that, but it is an option to be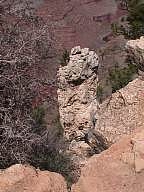 considered. On the day we chose to visit it was not overly crowded so we were able to walk along the portion of the Canyon that we wanted. Then when we were tired and ready to come back there was a Park shuttle there to return you to several different areas. Bob likes to capture various exciting angles in his photography which often ends up with me dangling high above some precipice, trying to smile. I tried to be a good sport about it and go along with most, but folks even I have my limits on exactly what rock I am going to dangle off of. There were a couple of times when Bob would say, "Hon, just go over on that rock and I'll get your picture" that all he got was a shake of my head. Unfortunately I am not as agile or surefooted as I usta-was and there were several photo-ops that fell by the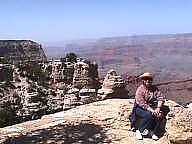 wayside. (I just figured if something had to fall better the photo-ops than me.) Some areas had guardrails up but most were simply not accessed due to people's good sense and a number of signs warning "approach at your own risk". Hmmmm, sounded reasonable to me. I have never really had a fear of heights, but watching some small pebbles that were dislodged, go bouncing down into the Canyon, can make a real believer out of you. Anyway, we proceeded along the rim for several miles, finally deciding that we had to be back at the train station for our departure. We then started looking for the shuttle station, which we found with little or no difficulty. It always amazes me the number of people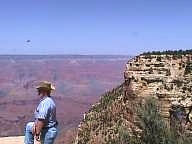 from different countries who have come to America to see a specific area or location. On our way back to the train we spoke with people from 5 or 6 different countries who had come all the way just to see our Grand Canyon and none of those that we spoke to were disappointed. After our walking and rock-hanging we were happy to see the inside of the train car for the beautiful trip back to Williams. Although we try not to repeat anything we do, I would certainly like to go back and spend more time at the Grand Canyon. It has to be truly one of nature's wonders.
If you'd like to take a look at their website for more information try: http://www.grandcanyontourguide.com or you can write or call the Grand Canyon National Park, P.O. Box 129, Grand Canyon, AZ., 86023, phone: 520-638-7888.
Good Luck! Have Fun! and Stay Safe!
Laura