PANEGYRI
A Greek Festival
In Cincinnati
June 27-29 1997
The coming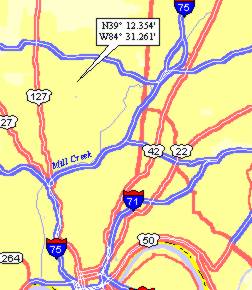 of June spawns many traditions in the United States. The least of which are the "summer festivals", which are sponsored by many of the churches and civic organizations. Most of these, to my point of view, are pretty much the same. A few rides, some games of chance,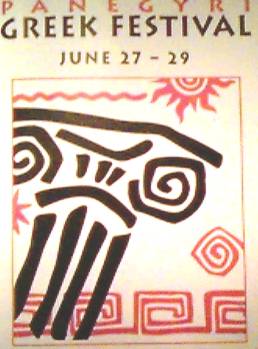 a few baked goods by the ladies of the church or organization, beer, and food. Lots of food. Many of the organizations depend on this income to fund the various activities planned by the church or organization in the coming months. Attendance is most important in the minds of the planners. As is always the case, some planners do better then others. This thought occurred to me as I gazed at the impressionist design on the poster in a local restaurant. ("Panegyri" [pan a year ee]. It was well done with quite a bit of thought. I found as I gathered more information that the entire festival was quite an operation, created by dozens of people; many having been involved with its planning and operation for the last several decades. Having been attracted to the "Panegyri" Greek Festival at the "Holy Trinity St. Nicholas Greek Orthodox Church in Cincinnati" by the impressive design of their poster proclaiming the event. Of the festivals in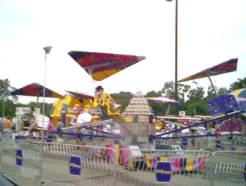 Cincinnati, this one is better known to the area as evident by the traffic jam on the four lane road in front of the church, choked to a halt by the massive attendance. Someone had put a lot of time and energy into the design of this poster. It was hanging in the window of a restaurant, Laura and I had selected as this weeks gastronomic adventure. In all honesty, we had actually visited the "Panegyri" many times in the past, but never with an eye on describing what was going on around us. So much is lost to the senses simply because there is no requirement or desire to describe the experience at hand. We were about to find a warm and happy group of church goers who were as intent on enjoying themselves as they were on bringing to light the history of a heritage which spanned the oceans and centuries from Greece to Cincinnati.