Guide Dogs of America School
13445 Glenoaks Blvd.
Sylmar, CA.
December 05, 2002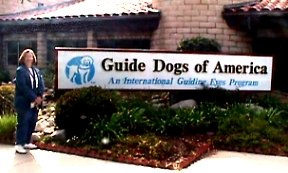 While staying in the Los Angeles area I found a brochure for the Guide Dogs of America School located in Sylmar, California, which is located north-west of LA. Since both of us are consummate dog lovers off we went to visit the school and take a tour of their facilities. We learned that the Guide Dogs of America is a non-profit charitable organization. All services are provided free-of-charge to the recipient; however the cost to breed, raise and train one dog for the program, plus train the blind individual with that dog to create a viable team, costs $25,000.
The school is located on seven and one half acres in Sylmar, California, the program at G.D.A. begins with breeding Labrador Retrievers, Golden Retrievers, and German Shepherds that will produce the highest quality guide dog possible. The entire program begins with the volunteer Puppy Raisers who are the "heartbeat" of the organization. At approximately eight weeks of age the puppies are placed with pre-screened, volunteer foster family environment where they receive love, basic obedience and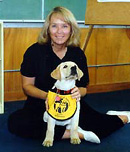 socialization. The puppies accompany their foster family everywhere. They go into restaurants, businesses, churches, shopping centers, etc. to learn and experience situations which will be encountered on a daily basis when they become a guide dog. The Puppy Raiser provides the necessary care for the development of the future guide dogs. The pup proudly wears a bright yellow jacket, identifying its mission and, in most cases, allowing the pup entry into areas that would otherwise be inadmissible to dogs. When the puppies are eighteen to twenty-two months of age, the family returns the dog to G.D.A. for evaluation. If the dog meets the criteria looked for, such as good health and even temperament, the dog continues with formal guide dog training at the facility for a period of four to six months. We found out that unfortunately even with all this tender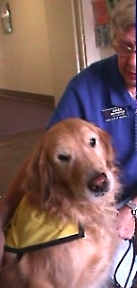 loving care the dogs aren't always allowed to go into the formal training. Since the criteria set is so strict only a limited number of dogs make the grade. However, many of the dogs that don't make the criteria are utilized in other service position. One of these positions is going into schools and showing the children how these dogs work. Another is showing visitors (such as Bob & I) around the school. Gwen Broderick and Sierra were our tour guides and both did an excellent job.
Upon completion of formal training, the dogs are carefully matched with blind students, taking into consideration their lifestyles and environments. In addition, the personalities of student and guide dog, size, strength, pace and energy levels of each are matched to ensure a harmonious relationship. Each team spends twenty-four hours a day together for twenty-eight days at the facility. Upon course completion, an awards ceremony is held for students, dogs, friends, family members and donors. The graduates then return home with their partners and a renewed sense of freedom and independence.
Since its founding in 1948, G.D.A. has graduated over 2,000 guide dog teams throughout the United States and Canada. G.D.A. receives no funding from any state or federal government agencies. For the past 50 years, they have depended on the generosity of the private sector (contributions from individuals, businesses, foundations, clubs, organizations, and bequests), rather than any government support.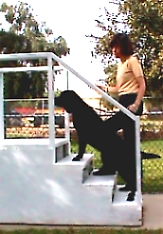 The history of the organization is a very interesting one. It seems that Joseph Jones, SR. was a retired member of the International Association of Machinists & Aerospace Workers Union (IAM). When Mr. Jones became blind, he considered the options open to him and decided his needs would best be served by using a guide dog. However, when Mr. Jones applied to all the existing schools he was declined because of his "advanced age". He was only 57. Joseph Jones, Sr. was a determined man and "no" was not a word in his vocabulary. He turned to the IAM for help, soliciting assistance from the IAM's Executive Council which, after conducting extensive research, determined there was a growing need for this service and endorsed the founding of International Guiding Eyes (IGE) in 1948. Not only was IGE one of the first guide dog schools to be founded by a blind individual, but it was also one of the first schools to adopt a policy of no upper age discrimination. Again proving the old adage that "one person can make a difference." Mr. Jones search for his own needs certainly has had an impact on thousands of people across the nation.

Good Luck! Have Fun! and Stay Safe!
Laura