Hammond Castle
80 Hesperus Ave.
Gloucester, MA 01930
Sept. 17, 2007
In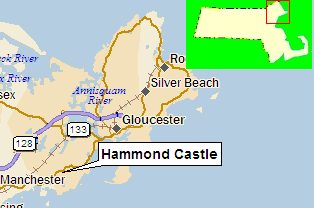 our travels we have had occasion to visit a number of castles across North America. However, one of the most interesting we have seen (castle as well as owner) was Hammond Castle in Gloucester, MA. Dr. John Hays Hammond, Jr. built his medieval-style castle between the years 1926 and 1929 to serve both as his home, as a backdrop for his collection of Roman, medieval, and Renaissance artifacts and as the location for the Hammond Research Company. The architectural firm of Allen and Collins participated in the castle's design, later using it as a sort of model after which the Cloisters in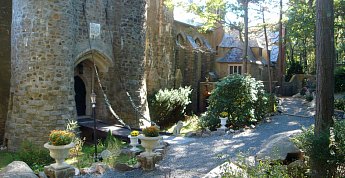 New York was created.
Although the castle was built in the modern times of the twentieth century, roughly seventy percent of the building is Medieval in nature. Dr. Hammond not only collected Medieval, Renaissance and Roman art and artifacts, but he also traveled throughout Europe and Africa collecting pieces of crumbled castle, churches, monasteries, and shops which were incorporated into his castle. The castle was given as a wedding present to his wife, Irene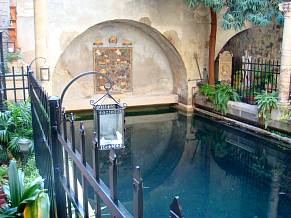 Fenton, and shows her influence as well. Changes were made to some of the rooms in the courtyard end of the building which show her tastes the in the Early American style of furnishings. The courtyard was one of the most interesting areas seen in a castle. It was built to look like a European village square with small shop fronts surrounding a central pool area.
John Hammond was one of America's premier inventors, ranking second only to Thomas Alva Edison in the number of patents credited to him (800 inventions, 540 patents). While his most important work was the development of remote control via radio waves, which earned him the title, "The Father of Remote Control" many of his other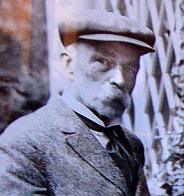 inventions were in sound reproduction and amplification, radio remote control and guidance systems, navigational aids for ships and aircraft. One of the things that were interesting to me was an early version of a fifth-wheel that he intended to travel in.
The Hammond's lived here at the castle until their deaths, Mrs. Hammond's in 1959, and Dr. Hammond's in 1965. As so many other "forward thinkers" Dr. Hammond specifically stipulated in his will that his castle home was to become and be maintained as an educational institution. The castle currently operates under the care of a private non-private organization.
Visitors to the museum are welcome to explore the castle on a self-guided tour of eight rooms including the great hall, indoor courtyard, Renaissance dining room, two guest bedrooms, the inventions exhibit room, the Natalie Hays Hammond exhibit room, the tower galleries, as well as several smaller rooms and passage ways. Visitors may also enjoy the beauty of the castle grounds and a view of the Atlantic shore line. If you are anywhere in the area be sure and set time aside to visit this "glimpse" into the past.
Good Luck! Have Fun! and Stay Safe!
Laura