Harriet Beecher Stowe House
77 Forest St.
Hartford, Ct. 06105
October 2, 2001
While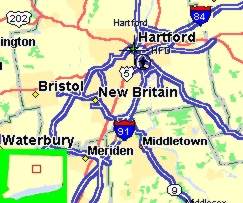 we were visiting Mark Twain's house in Hartford we noticed that right next door to his house was a neighbor's house who was a well-known author in her own right. That was Harriet Beecher Stowe. Mrs. Stowe wrote the much publicized novel "Uncle Tom's Cabin". While Mrs. Stowe's house was dwarfed next to Mark Twain's it was charming nonetheless. We did learn that the present house was only a smaller one that had been built after Mrs. Stowe was no longer able to live in the large mansion that she once lived in. Unfortunately, the original mansion had been razed to make room for urban expansion in the area. This area once housed many writers and reformers including Isabella Beecher Hooker, a woman's rights advocate. Mrs. Stowe's house was called Nook Farm, it was here she lived from 1864 until her death in 1896. You start your visit at the Visitor Center which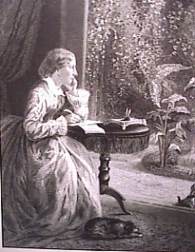 was originally built as a carriage house. Inside are included exhibits, visitor information and a gift shop offering works by Stowe and items relating to African-American history, women's history, the Civil War , and the Victorian era. It was here that I learned that Mrs. Stowe had not only written Uncle Tom's Cabin but a number of other books as well. To understand Mrs. Stowe's writings one must look at her background. Harriet Beecher was born in Litchfield, Connecticut, on June 14, 1811. Her father, Lyman Beecher, was a Congregational minister in Litchfield. Her mother, Roxanna Beecher died when Harriet was five. Of Harriet's siblings: her seven brothers became ministers, and one, Henry Ward Beecher, became nationally prominent. One sister, Catharine Beecher, founded two schools for young women and another, Isabella Beecher Hooker, became a leading suffragist. Harriet studied at the Litchfield Female Academy and the Hartford Female Seminary. She went on to teach at the Hartford Female Seminary and the Western Female Institute in Cincinnati, Ohio, her sister's schools. From 1812 to 1850, she lived in Cincinnati, where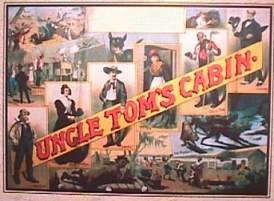 her father was president of Lane Theological Seminary. While there, she met fugitive slaves, heard abolitionists speak, and observed the workings of slavery in Kentucky, just across the Ohio River. Harriet married Calvin Ellis Stowe, a Lane faculty member, in 1836. The house they lived in is still preserved and can be visited if you travel through Cincinnati. They would have seven children, one of whom, Samuel Charles Stowe, died as an infant in 1849. That loss, and the passage of the Fugitive Slave Act in 1850, moved her to begin a work that would depict slavery "in the most lifelike and graphic manner." Serialized in forty-two installments in the anti-slavery paper The National Era, it became Uncle Tom's Cabin, the best-selling book of the 19th century. Eventually translated into more than sixty languages, it won her international fame. Uncle Tom's Cabin was actually written in Brunswick, Maine, where Harriet lived from 1850 to 1853, when the Stowe family moved to Andover, Massachusetts. The family then moved to their first Hartford home, Oakholm, which was demolished in 1864. In 1873, they moved to the home that the Stowe Center now preserves. The family also had a winter home in Mandarin, Florida, near Jacksonville. While Uncle Tom's Cabin was Harriet Beecher Stowe's most famous novel she also had published more than thirty books and numerous sketches and articles, many dealing with the role of women. She was one of the key members of Nook Farm, Hartford's neighborhood of writers and social reformers.
Harriet died in Hartford on July 1, 1896, and was buried in Andover, Massachusetts,
with her husband and one of their sons, Henry.
Of everything I have seen and read about Harriet Beecher Stowe I think the following quotation really explains what motivated her. When asked why she wrote Uncle Tom's Cabin Harriet said: "I wrote what I did because as a woman, as a mother, I was oppressed and broken-hearted with the sorrows and injustice I saw, because as a Christian I felt the dishonor to Christianity -- because as a lover of my country, I trembled at the coming day of wrath. It was said that Uncle Tom's Cabin started the Civil War. It is even said that Mrs. Stowe visited with President Abraham Lincoln and reportedly he said to her "So you're the little woman who wrote the book that started this great war." Only a year after this meeting with Mrs. Stowe Lincoln signed the Emancipation Proclamation in 1863. Thus starting the way for freedom for Afro-Americans. Unfortunately, we were only allowed to take pictures of the outside of the house, but the inside was a charming cottage filled with many artifacts of the Stowe family.
Good Luck! Have Fun! and Stay Safe!
Laura