In search of the Female Comfort Food
Chocolate
Hershey Pa.
July 29, 1999
As we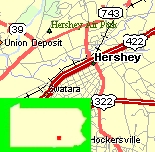 traveled through Pennsylvania the one thought that stayed in my mind was that we were in the land of "CHOCOLATE". Like many ladies chocolate fills a need for me. It's my Valium in times of stress, unhappiness, etc. So, when we camped close enough to get to Hershey that's all Bob heard. He finally said, "If you want to go to Hershey so bad then you can write about it." Sounded good to me, so here goes. First of all, we checked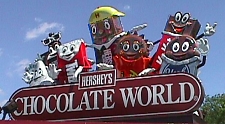 our map. Sure enough, there was Hershey, PA, less than 50 miles away. The only thing I thought of was going through the factory and seeing all that delightful chocolate. Well, don't make that mistake. We knew we were approaching Hershey because we could smell chocolate in the air. (YUM) After we got to Hershey we realized that the Hershey factory had become a huge entertainment complex. The complex includes Chocolate World, Hershey Museum, Hershey Gardens, Zoo America, Hershey Park, and Hershey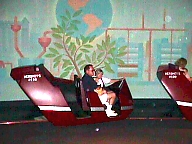 Park Fair. In addition to these are many places to stay in Hershey, including the Highmeadow Campground, Hotel Hershey, and Hershey Lodge. (I found out later that the Hotel features chocolate baths.) There are also the many corporate and historic buildings around town and the many buildings that makes up the Milton Hershey School. Since they have so many visitors (2.5 million last year) they no longer allow visitors to tour the actual plant, but they have a place called Chocolate World. It is free to tour, and they take you through on an amusement-type ride and show you exhibits that simulate what goes on at the factory. It is a great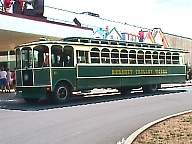 ride for young and old. When you get off the ride you get a sample bar of Hershey. Upstairs they have a gift shop, several restaurants and snack bars. Now, we had to decide where to go next. What a predicament! So much to see and do and we only allowed 1 day. Just then we spied a sign for the Hershey Trolley. What a great idea! We could ride the trolley and listen to the BORING speech about all the old people and buildings in Hershey and get an idea of where to go and what to do next. Well, if we expected boring on this trolley we were very much mistaken. A delightful young lady by the name of Marisa Weik was our tour guide. Dressed in period costume she started telling us about Mr.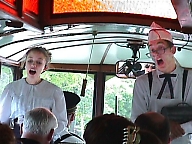 Milton Hershey and his wife, Catherine. (I'll tell you more about them later). As the trolley was about to start a young man by the name of Mark Estep jumped on board and introduced himself as "Wilbur" and said he was a new tour guide in training and was told to ride along to learn. Well, from this point forward the entertainment was fantastic. We learned a lot about Mr. Hershey, his life, the town, the complex,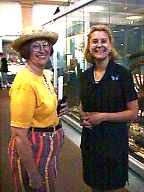 but interspersed were bits and pieces of entertainment, as well as sing-alongs. When we stopped for a stop sign, "Wilbur" jumped off claiming to have forgotten his camera. What he actually did was jump into a little room on the back of the trolley and change clothes for his next appearance. From then on it was "Wilbur" constantly jumping back on dressed as a different character out of Hershey's past. Also during the ride they conducted several sing-a-longs which involved even the most reluctant of passengers. All too soon the trolley pulled to a stop back in front of the Chocolate Factory Building. Now where to go? We decided that we wanted to find out more about this dogmatic Mr. Hershey so we next went to the Hershey Museum where we met a delightful lady in Public Relations by the name of Amy Tabar. Amy was very knowledgeable about the Hershey past and obviously very enthused about the Museum and her subject.