Harpers Ferry National Park
Harpers Ferry, WV.
Oct. 15-19, 1999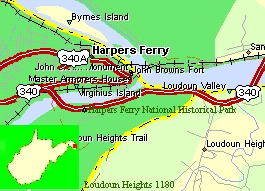 We were staying in Maryland when Bob said "Let's go visit Harpers Ferry." Since he was the "war expert" I countered with "another war huh?" "Yep big civil war battle that occurred in Maryland." At that point I whipped out our mapping system and was able to determine that Harpers Ferry was actually in West Virginia. Wow, I finally found something he made a mistake on reference war. Well, that only lasted until we got to the National Park and were handed a brochure that indicated Harpers Ferry National Historical Park West Virginia, Maryland, Virginia. Oh well, enough of our domestic squabbles, on with the story.
There is a charge to enter the park. However, if you are traveling at all and will be going to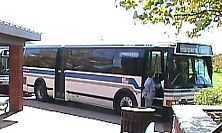 a number of National Park Sites (as we are) I highly recommend the yearly Golden Eagle pass for $50. Now for all you senior citizens (over 60) there is another pass that is only $10. Both are a very good deal. After showing our Golden Eagle card we parked our truck in the parking lot and entered the visitors center. The visitors center was done very well and had a lot of interesting exhibits. However, our main interest was in the refurbished town itself (which was a couple of miles away). In order to keep traffic in Harpers Ferry to a minimum the park provides shuttle buses (no charge) which drop you off in the town and when you are finished return you to the visitors center. I think it is a very good idea because it gives the town a more historic feeling. Kind of like you are back in that time. Fortunately the day we went we had beautiful weather which allowed for some really nice pictures.
To give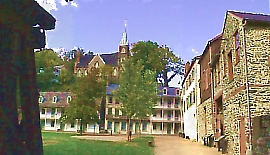 you a little background on Harpers Ferry: before the Civil War, 3000 people lived and worked in the prosperous industrial town. Benefiting from abundant natural resources and a prime location at the confluence of the Potomac and Shenandoah Rivers, this area was advertised as one of the best situations in the United States for factories. The town's largest industry, the U.S. Armory, had over 20 factory building and 400 employees. The Baltimore and Ohio Railroad and the Chesapeake & Ohio Canal also provided a steady flow of people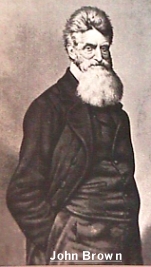 and commerce through the town. These assets made Harpers Ferry strategically important to both sides during the war. The town changed hands eight times, but remained under Union control 80% of the war. Life under military rule discouraged the citizens, and the population dropped to less than 300 barely six months into the conflict. Down through history many famous or infamous peoples' names are connected with this small town including: John Brown, George Washington, Meriwether Lewis, Robert E. Lee, JEB Stuart, "Stonewall" Jackson, George Armstrong Custer, Philip Sheridan, Abraham Lincoln, Frederick Douglass and WEB DuBois.
One of the first and major battles over Harpers Ferry occurred in 1859 when John Brown and his "raiders" had taken over the United States Armory located in Harpers Ferry. John Brown looked on this as his first step in the south to free the slaves. Thirty six hours later the U.S. Marines recaptured the armory and took John Brown prisoner. Up to this point the issue of slavery had not been a major issue in the war. However, the action of John Brown brought this issued to the forefront.