Historic Arkansas Museum
200 E. Third St.
Little Rock, AR
April 16, 2002
We were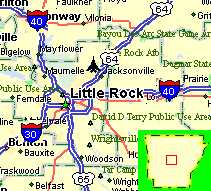 staying just outside of Little Rock, Arkansas, and found a brochure for the Historic Arkansas Museum. They indicated this was a living museum. We prefer the living museums as they generally feature docents, in costume, acting out the time period they represent. This one was no exception. What was different was the fact that this living museum was actually in the heart of the city. Usually they are situated on lovely wooded acres somewhere on the outskirts of a large town. It was interesting to be in this museum that was created out of old houses moved there from other areas, and to hear the roar of city traffic all around. It was almost like an oasis of history in the heart of the city. The main building was a large structure containing a number of exhibits. Some of them static and some of them changing. They also featured an archive department that housed more antiques than they had room for, even in this building. Periodically, they will take some of these out, create a new exhibition and put some of the old exhibition away for a time. This unique idea kept the public coming back for a look at "what's new?" this month.
We were told that there were guided tours of the restored early 19th century houses on the hour. Trained professional tour guides lead each group of visitors into a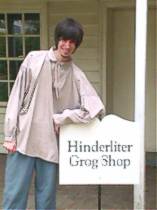 personal understanding of the restored structures and their outbuildings, and the time periods they represent. Tours last approximately one hour and begin with a brief video. After having watched the video we were met by our tour guide who took us through the various buildings. The first building we encountered, the Hinderliter Grog Shop, is said to be the oldest standing building in Little Rock, estimated to have been built in 1827. The grog shop was begun as a log structure in 1826 by Jesse Hinderliter, a man of German descent. It was his home and business, where he lived with his wife and two slaves until his death in 1834. Popular folklore associates the building with the last meeting of the territorial legislature of 1835. Red oak logs and cypress flooring were used in the grog shop's construction. The clapboard siding and porch were later additions. Inside, the hand-carved federal mantel in the formal dining room shows that style was important, even in a log house on the frontier.
Next we came to Brownlee House. Dated about 1848. Robert Brownlee built this Federal style brick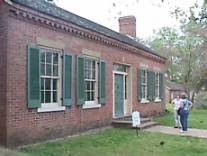 house in the late 1840s for his brother and sister-in-law. A Scottish stonemason, Brownlee came to Little Rock in 1837 to help build the Old State House. He pursued a number of careers before leaving for California in the 1849 gold rush. From the late 1840s through 1852, the home's residents were James and Isabelle Brownlee and Tabby, a slave. Brownlee had the wooden mantels in the parlor and bedroom marbleized, a popular decorative art of the time. The home's furnishings reflect the mid-19th century. Some belonged to lawyer and writer C.F.M. Noland, who may have lived in the house in the 1850s. The third building we saw was the Woodruff Print Shop. Dated around 1824. William Woodruff, a young New Yorker looking for a business opportunity, moved to Arkansas Post in the fall of 1819 to print the territory's first newspaper, the Arkansas Gazette. When Little Rock became the territorial capital in 1821, Woodruff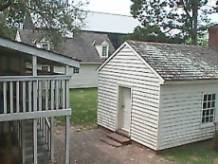 moved his business upriver. Between 1824 and 1827 he lived and worked on the northeast corner of the museum's block. The two-room brick structure now used as Woodruff's print shop is what remains of the original structure. Inside the print shop are original Woodruff furnishings and a replica of the Ramage press that he brought to Arkansas by keel boat. Outside, a medicinal herb garden featured native and imported plants used by settlers and native Americans for healing. It is maintained by the Arkansas chapter of The Herb Society of America.
Lastly we were taken through the McVicar House. This was built around 1848 by James McVicar, using white oak logs and square pegs, on the same block his friend Robert Brownlee built a brick home. Their homes follow the symmetrical 1840s style with a large central hall bordered by two rooms of equal size. It is a sophisticated version of the "double pen" log house seen across Second Street. McVicar was director of the state penitentiary, a Mason, a veteran of the Mexican War, and a slave holder. In 1849 he and Brownlee led the Little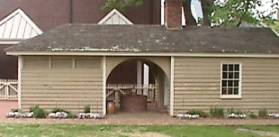 Rock-California Company to the California Gold Rush. McVicar later returned to Little Rock and married.
Another house that we did not get to visit was directly across Second Street. It is the Plum Bayou Log House. This house dates back to the 1830s. However, the written history of this home does not begin until 1856. In that year it was found abandoned and in need of repair to house the Pemberton family, who had just moved from North Carolina. It is built of logs from ancient cypress and has brick chimneys - few stones are found in the delta where it was built. Originally located on Plum Bayou near the farming community of Scott, the house was moved 20 miles to the ATR in the 1970s. It is the museum's hands-on education center, where Arkansas school children experience pioneer activities firsthand.
While the Historic Arkansas Museum was not necessarily one of the largest living history museum, it certainly did a fine job in presenting a clear picture of the State and its citizens.
Good Luck! Have Fun! and Stay Safe!
Laura
HOME PAGE