Hollywood
The City of the Stars
Hollywood, CA
December 13, 2002
Southern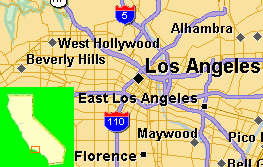 California was a whole new world to us. As a result I wanted to go everywhere and see everything. While we were staying in Los Angeles one of the places on my "must see list" was Hollywood, the Mecca of the movie world. Like so many of us I've spent most of my life looking through "star" magazines, showing the goings-on of the glamorous, larger than life movie stars. I would sit home and watch the awards shows along with so many others that dreamed their dreams of being up there. Well, we set off with high hopes of a possibly "sighting". In tourist jargon that means you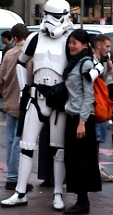 actually get to see a movie star up close and personal. There were so many things to see there that I talked Bob into going on one of their "famous" go everywhere and see everything tours.
We started out at the fantastic Grauman's Chinese Theater, doing the usual touristy things. As a result I ended up with a stiff neck. I was either looking down at the star footprints on the sidewalk or looking up at the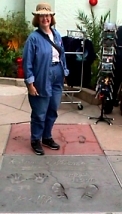 beautiful fašade of the theater. Along with other tourists there were several interesting characters in costumes from some of the movies, such as, Star Wars. We priced several tours that were sold out of booths in front of the theater and found one that was willing to take a cut in price. I felt it was well worth the price. They drove us around to various areas of interest. One was Rodeo Drive where they parked so the occupants of the tour bus were able to get out and shop. They told us that on occasion we might be able to see some movie stars shopping. No luck on our day.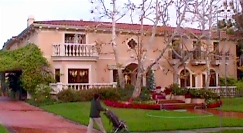 Not being avid shoppers we window shopped for awhile and then stopped and had lunch.
Going through Beverly Hills was a real experience. The homes on the tours that belonged to the movie stars of yesteryear were right next to the streets. These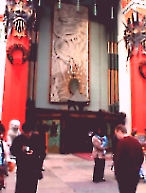 were people who wanted to be close to "their public". However, when we drove further out from downtown Beverly Hills we noticed that the houses were so far from the road that all we got to see was "the entrance gate for" (you name it). We did see one estate that made me sad. It was the estate of Johnny Weismeuller. It appeared to have been destroyed by fire and no one did anything about rebuilding it or restoring it. There was a beautiful Olympic sized pool. We continued on seeing this gate and that gate until we had finally returned to our starting point at the Grauman's Theater. I really enjoyed the tour as it gave us an overview of the area.

Good Luck! Have Fun! and Stay Safe!
Laura