Hot Springs, AR
National Historic Park
Hot Springs, AR
May 05, 2005
While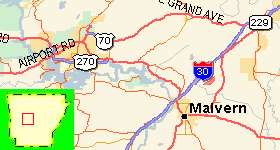 we were staying in Hot Springs, AR, I found a brochure for one of the health spas in town. The spa package offered was around $50. I suggested to Bob that it would be a lovely birthday present for my upcoming birthday (May 8). He agreed but stipulated that I would have to write about my experience for our website. That sounded like a good deal to me. So we went in to the spa and I signed up at the desk. They offered a lock box for any valuables but I gave mine to Bob who agreed to wait for me on the front porch. From the desk I was directed to the elevator. (Women got their treatments on the second floor, while men were on the first). A young lady greeted me at the elevator and took me to the second floor. I was shown to a cubicle that included a locker with a key. I was instructed to remove my clothing and place them in the locker. I was to put the key (on an elastic band) on my wrist. My personal attendant, Brandi, came in and wrapped me in a large linen sheet. For anyone who feels uncomfortable being nude in front of others they are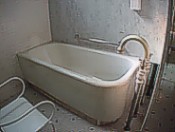 allowed to wear a bathing suit. I felt no such need since everyone there were females so I proceeded to the next room with my attendant. I was then instructed to climb into a large tub filled with the mineral waters that was cooled to a temperature of 100 degrees F. The water actually comes out of the springs at 143 degrees F. After I climbed into the tub she started the Jacuzzi and left me to luxuriate for 15-20 minutes. She left and came back with a couple of cups of the mineral water for me to consume. It was hot and had no distinctive taste. The mineral water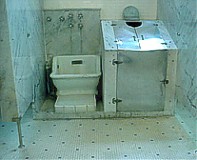 in Hot Springs, AR, is unique because it has none of the heavy sulfur taste/smell that you might find in some hot springs. After my time was up Brandi came back in and again wrapped me in my linen sheet to go to the next treatment. The next step was the sitz bath. This one you get to sit in for 10 mins. By this time I was so relaxed I figured I would either fall asleep or just melt. Brandi came back and we proceeded to the steam box. It was the kind that you sit in and there is a top on it that fits around your neck. This one only lasted for 2-3 mins but the steam vapor felt great. They said something about opening up all your pores and getting rid of the impurities.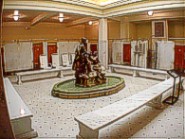 Next it was on to the hot pad tables. I laid down on a table and Brandi put hot towels (4) wherever I wanted them placed. I had one put behind my neck and on my shoulders, 1 on each knee, and one behind my back. Hmmmm, relaxation extraordinaire. I lay there for the required time, almost asleep, and then Brandi came back, again wrapped me in linen and whisked me off to the masseuse. I waited for a few minutes until Karen (the masseuse) came in to take me to the massage table. She did an excellent job and we chatted while she gave me my massage. She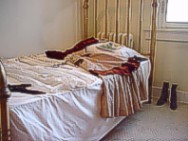 was a delightful lady who did a great job. All in all my treatment took a little over 1 ½ hours. Considering the way I felt when I left I was certainly happy with my birthday present. I highly recommend this experience to anyone who comes to Hot Springs. (I don't want you gentlemen to feel left out so I got Bob to take a picture of the waiting area for you. Hmm seems the gentlemen got beautiful statues to look at while they were awaiting their treatment.) In some of the spas, at one time, you could rent a room for the day, in which you would be able to change your clothes and/or have your maid or secretary await you while you had your treatments. In the basement of the Spa they

featured a historic display explaining all about the history of the town and spas. Although I was thoroughly relaxed I was also energized to see the rest of this lovely historic town along with the National Park overlook that has a gorgeous view of the town. As we walked around town it was easy to imagine yourself in the era of the late 1800's to early 1900's. This was a time when the rich and famous were seeking their pleasure where they could find it. The buildings were ornate in only the way the buildings from that era were. Lots of fancy scroll work and inlaid tiles in and on everything. In addition to all the lovely old buildings there are a couple of museums in town. We had decided to stay at a campground outside of town, and it was the end of a perfect day after having a great meal at a German restaurant in town called The Bohemia we slowly wended our way back to our campground and watched the sun go down over the lovely Arkansas landscape.
Good Luck! Have Fun! and Stay Safe!
Laura