Houston

Natural History Museum

Houston TX.

February 13th, 1998
Leaving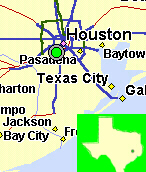 Lafayette La., we arrived in Houston TX that evening. Houston is a beautiful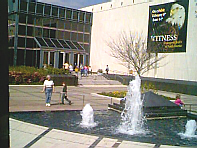 city which is remarkably clean in the downtown area. The heart of the city is Hermann Park, which covers many city blocks and houses a botanical garden, a golf course, and a natural history museum. It was this museum that attracted us. It was a large building broken up into three parts. The actual museum in the middle which was made up of three floors. At one end was an IMAX theater and at the other was a planaterium. We walked in to be greeted by a Hadrosaur, being shadowed by a Tyrannasaurus,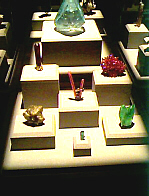 or the remains there of.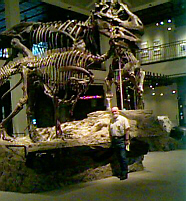 This was the middle floor and it covered ancient Texas, Indians, and anything you ever wanted to know about the acquisition of oil from the ocean floor, including a simulated ride down a drilling pipe into shale rock to extract oil. The top floor houses the Cullen Hall of Gems and Minerals. This is by far the most impressive collection of crystal formations I have ever seen. Literally dozens of display cabinets, which displayed the various crystals on black velvet and highlighted by a spotlight. These cases made up a maze-like path that took over an hour to see. Every known gem is represented here. Outside the gem room is yet another astounding collection of sea shells, beautifully displayed in similar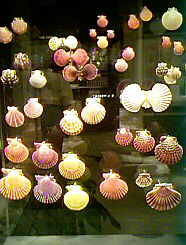 glass cabinets without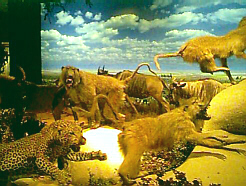 the low-light effects. As in most areas of the museum, murals and plaques describe in detail the time and events displayed by the relics presented. The last part of the second floor is devoted to the wild life of Texas as well as the African Plains. This is done by presenting real stuffed animals in action settings without glass or screen. I could almost feel that I was present at the scene, because of this lack of obstructions. The back half of this exhibit is devoted to award winning photographs of animals. The final floor in the basement, is devoted to the Houston space mission, a weather station, and a multitude of experiments in physics. There are many work stations which have interactive computer programs supported by physical aids for teaching a specific subject or part thereof. All in all this park and the museums and activities available within is the pride of Houston, and rightly so.

*** THE END ***