Independence, MO
A Charming Historic Area
Independence, Missouri
May 13-17, 2003
One

of the most charming "small" towns we have visited was Independence. It's claim to fame was that it was the town where Harry Truman, the 33rd president of the United States, grew up and later retired to. Although Independence is actually the 2nd largest city in Missouri, when you stay in the historic area it has a small town feeling to it. We stayed at the only RV park in the historic area called Camp-Us RV Park. It is a lovely park within walking distance of most places in the area.
We decided to see the Truman residence but unfortunately arrived late for the last tour. The house is really lovely and it was possible to picture Harry Truman sitting on the front porch rocking while he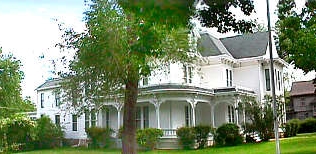 listened to his beloved daughter, Margaret, playing the piano inside. The house was built about 1867 by George Porterfield Gates, a mill owner. President Harry S. Truman and his wife, Bess, granddaughter of Gates, made this their home from the time of their marriage in 1919. It became the "Summer White House" from 1945 to 1953. The house is now under the charge of the National Park Service and there is a $3 charge for tours. There is also a Truman Library which has numerous exhibits showing various aspects of Truman's presidency.
In addition to these sites there is the World Headquarters of the Community of Christ. Their temple and auditorium is one of the most spectacular buildings I have ever seen.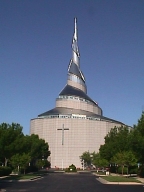 The Temple spirals 300 feet above the skyline and overlooks the dome of the Auditorium. The public is welcome at the Temple and Auditorium for tours and the Daily Prayer for Peace. Groundbreaking was April 5, 1990, and was completed in 1992. The exterior of the Temple has Georgia Oconee granite walls, and the spire is covered with satin finished stainless steel. Wood throughout the Temple is bleached maple. Even if you are not particularly religious a tour of this building is interesting to all.
If you are interested in old houses (as I am) there are several in town of interest. One is the Vaile Mansion. 1500 N. Liberty St. This is a typical Victorian Mansion built in 1881 for the flamboyant Col. Harvey Merrick Vaile and his wife Sophia. Their estate boasted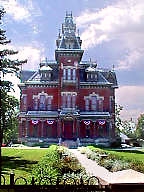 modern conveniences far ahead of their time. They had flushing toilets, a built-in 6,000 gallon water tank, and a 48,000 gallon wine cellar. This house has a very colorful past. Although it had started out as a private estate over the years it has served as an inn, sanitarium, asylum and nursing home. A tour of the house includes many stories about the house. They challenge you to decide for yourself which of the stories might be true and which ones you can use to amaze your friends. Check out their website for further information and hours at: Vaile Mansion.
Another beautiful house is the Bingham-Waggoner Estate, 313 W. Pacific Ave. This 21 room mansion, while large, is certainly not the ornate building found in the Vaile Mansion. This estate was built in 1855 and at one time was home to Missouri artist George Caleb Bingham. The home was remodeled about 1890 and many of the furnishings and accessories from this era are intact. The Bingham-Waggoner Estate is also open for tours from April 1 to October 31.
There are also a number of other historic sites to visit around the city including Historic Independence Square. As you wander around the charming city square you can almost hear the number of bands that must have played there in the past. As we wandered around we came to a store called Clinton's Soda fountain. There was a sign proudly indicating that Harry Truman's first job was working at the soda fountain in this store. Well, never being one to ignore tradition we had to go inside and partake of some of their wares. I can still remember, as a small child, my father taking me into a local soda fountain and getting me a "cherry phosphate". Well, lo and behold they offered this very concoction. Not sure if my memory is just getting poor at my age, but the drink certainly tasted pretty much the same to me. It's funny how a taste can act as a transport vehicle back to your past. It was wonderful. While our visit only lasted four days, it was a lovely, peaceful time, well worth the trip.
Good Luck! Have Fun! and Stay Safe!
Laura